Exploring timberland investment opportunities in Brazil
Brazil is attracting greater interest from sustainable timberland investors around the globe, as it's home to some of the most favorable conditions for eucalyptus, a fast-growing hardwood species used in the production of bleached eucalyptus kraft pulp, the most used market pulp in the world.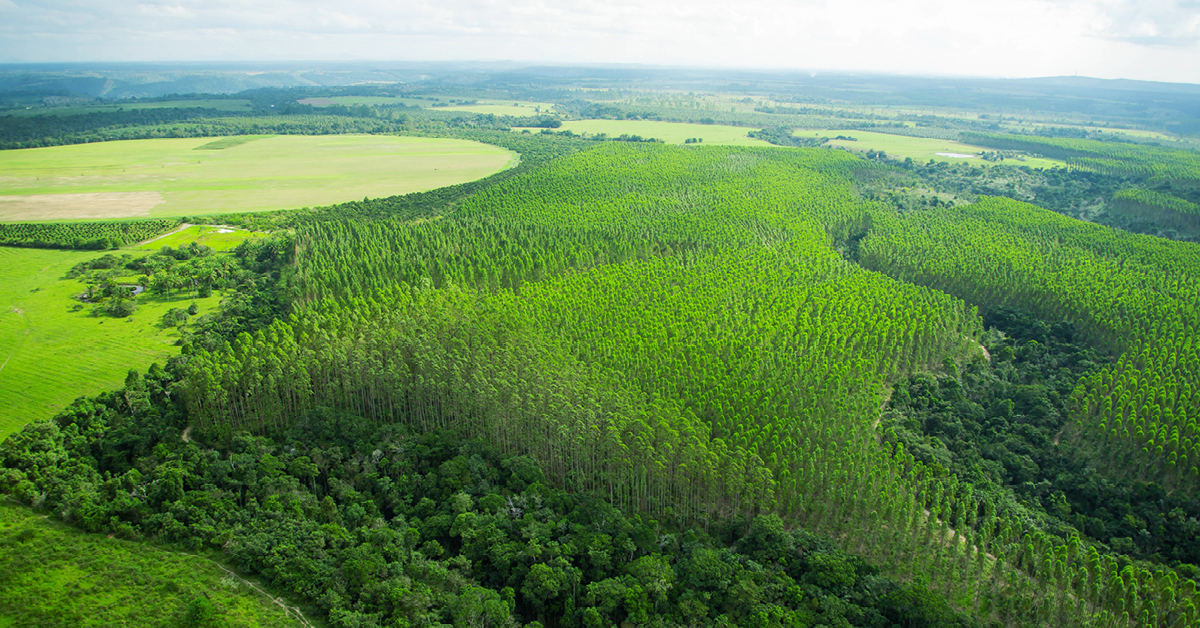 Key takeaways
Brazil is the largest, and one of the lowest cost regions for hardwood market pulp production in the world.
Global hardwood pulpwood demand is projected to trend higher, supported by growth in key market segments, including paper packaging, tissue, and specialty pulp used in textiles and absorbent hygiene products.
Plantation forestry has reduced the wood harvested from natural forests by 26% globally and can provide wood fiber for forest products in a way that allows ecology, biodiversity, and indigenous populations to flourish.
The Brazilian tree plantation sector offers timberland investors an opportunity with transparent, standardized, and measurable ESG and sustainability metrics. 
Brazil's distinctive timber resource
Brazil has the largest forest plantation base in Latin America and the eighth largest in the world. The sustainable management of this forest plantation resource in Brazil has removed pressure from its native forests: Forest plantations now provide the majority of timber needs for the domestic forest products industry with planted trees responsible for 91% of all the wood produced for industrial purposes, and the favorable growing characteristics in Brazil result in some of the highest productivity levels for timber in the world.
Brazil's eucalyptus plantation area has grown markedly over the last decade (up 60% from 2009 to 2020) along with the continued and anticipated growth in the domestic pulp sector. Its large-scale and highly productive plantation forests have allowed it to become a leading global, low-cost supplier of forest products, especially pulp and paper products. The plantation resource also concentrates Brazil's timber production on a smaller footprint, relieves pressure on the native forest, and expands the scale of the country's forest carbon sink.
HARDWOOD MARKET PULP

Brazil is the largest, and one of the lowest cost regions for hardwood market pulp production in the world.

Global demand has expanded at a rate of 4% since 2001 and accounts for more than 50% of total market pulp demand.

China is the world's largest consumer of hardwood market pulp and is Brazil's largest trading partner for hardwood market pulp.

Hardwood pulp production in Brazil has accelerated over the last 20 years, and is heavily focused on export markets, being the world's largest net exporter—with exports accounting for 86% of total bleached hardwood kraft (BHK) pulp production in 2020.

Multiple large pulp mills are in line to be constructed in the next 5 to 10 years and will require a substantial volume of pulpwood to provide wood fiber for growth in pulp production.

WOOD PRODUCTS

Brazil is one of the 10 largest producing countries of wood panels in the world. Nonstructural panel production in Brazil has expanded at a robust rate over the past 20 years to meet growing domestic demand, and it's a major exporter of softwood plywood to the U.S. market.

In the short term, lumber production growth will face headwinds from unsettled domestic economic conditions and exports will face increased competition from rapid expansion in lumber capacity in the U.S. South.

Longer term, Brazil's domestic lumber consumption will find future support in continued economic development and the expanding use of cross-laminated timber (CLT) and other mass timber products.

CHARCOAL AND WOOD PELLETS

While the production of charcoal has trended slowly lower over the past 15 years, demand for plantation-based pulpwood used in charcoal has fared better than expected, as the pulpwood used in production has shifted strongly away from native forests and toward plantation-based woodfiber.

China's current slowdown in construction markets opens the possibility of its excess steel stocks competing more aggressively in offshore markets with Brazil's steel industry, and potentially placing additional downward pressure on charcoal production in Brazil, although growth in pulpwood consumed in market pulp will likely offset any potential decline in consumption from charcoal.

Wood pellet exports are expanding at a robust pace in line with growing global demand for green energy, and as the Brazilian industry enters new export markets and develops existing ones.
Timber demand in Brazil is largely focused on fast-growing eucalyptus, which is a premium raw material in the production of market pulp and is traded internationally, while Brazilian hardwood pulp producers are the lowest cost and largest producers of market pulp in the world. Global hardwood market pulp demand is expected to continue growing, benefiting from the expansion in key market segments, including packaging, tissue, and specialty pulp used in both absorbent hygiene products (e.g., diapers) and textiles. These positive market prospects are reflected in the ongoing major investments in market pulp capacity in Brazil. 
Sustainable investing in Brazilian timberland
The Brazilian government has initiated policies at the federal, state, and municipal levels to promote sustainable forest management to fully harness its vast natural resource supply and help meet growing demand for sustainable investment opportunities and products. In addition to these policies, industry groups within the country have emphasized the sustainability credentials of timber plantations and added clarity and transparency to sustainability efforts with a strong rise in third-party forest and forest product certification. These initiatives have allowed Brazil's timberland sector to continue to create sustainable investment opportunities and remain well positioned to help meet the growing demand for sustainably produced goods while actively participating in global decarbonization efforts. As such, the Brazilian tree plantation sector offers timberland investors an opportunity with transparent, standardized, and measurable ESG and sustainability metrics.
"Industry groups within the country have emphasized the sustainability credentials of timber plantations and added clarity and transparency to sustainability efforts."
Plantation forestry has reduced the wood harvested from natural forests by 26% globally and can provide wood fiber for forest products in a way that allows ecology, biodiversity, and indigenous populations to flourish. When planned properly, plantations support local ecosystems and serve as an option for natural climate solutions to reduce and sequester greenhouse gases (GHGs). Plantation forestry in Brazil has grown 42% in land area over the last 11 years and typically follows a mosaic planting technique that intermingles plantations with native forests, which helps create areas of refuge and ecological corridors for wildlife. The higher the diversification of the mosaic, the more sustainable the land becomes, making it an efficient way to balance sustainability with productivity. Plantation owners are allowed to use only 60% of their land for commercial purposes, on average, leaving the remainder to contribute to protecting the original ecology of the region, called "legal reserves." In addition to these reserves, some properties are required to preserve ecologically sensitive areas such as high hills, wet soils, and areas around water bodies (~30m each side), called "permanent preservation areas." And, on the socioeconomic front, the planted tree sector has helped improve local economic conditions in Brazil, generating additional income through new job opportunities. 
Brazil ranks 10th in global rankings for the number of established FSC and PEFC chain of custody certificates within the country, as of 2020.
Alongside actively participating in globally recognized certification programs, a significant portion of companies are adopting water and soil conservation practices and using renewable energy sources. These certifications and land management practices allow Brazilian timber plantations to demonstrate their ability to meet international sustainability standards and help satiate the expanding demand for various sustainably sourced and produced forest products, both domestically and internationally.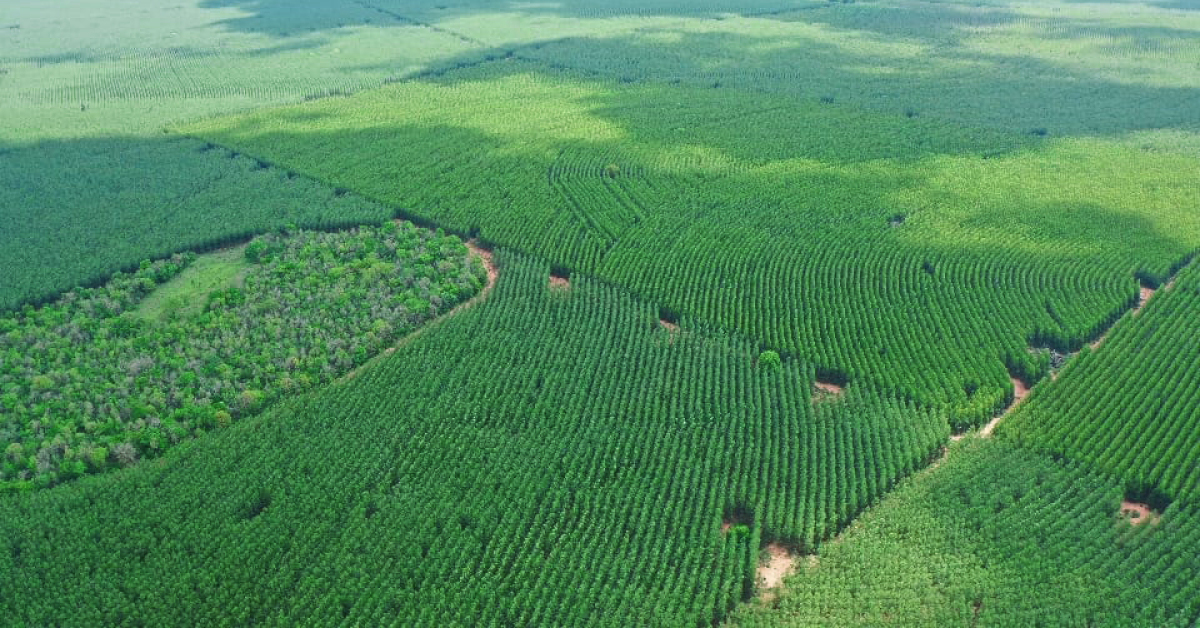 On the governance side, Ibá has developed a charter of principles for its membership base to help standardize and promote governance within the industry. In addition, many companies have enacted policies, public positions, and training programs related to ethics and health, safety, and the environment, internal controls, and anti-corruption—activities that are becoming a higher priority for their stakeholders. 
Brazilian plantations and net zero emissions             
Under the Paris Agreement, Brazil has made a Nationally Determined Contribution (NDC) to reduce GHG emissions by 37% by 2025 relative to 2005 levels and was the first Latin American country to include forest restoration in its commitment. The Brazilian tree plantation sector has a crucial role to play as a nature-based solution to combat emissions as global markets mobilize to reach these rapidly approaching targets. Trees store carbon during their lifecycle and release carbon dioxide back into the atmosphere when they're burned or decay, but if they're harvested and turned into wood products, the carbon is locked in those products throughout the product's lifecycle. Forest products sourced from Brazil's increasing area of tree plantations that meet stringent international sustainability standards can be used to support the growth of innovative wood-based building products such as CLT and other mass timbers to replace less environmentally friendly products such as steel and concrete. Additionally, using Brazil's plantations in the production of paper and paper packaging can be used to replace single-use plastics, polyester, and Styrofoam. 
Brazil's economic progress
Brazil is one of the world's major developing economies, ranking 12th largest by GDP (US$1.61 trillion), 5th largest in area (8.5 million km2), and 6th largest by population (213 million) in 2021. Economic activity in Brazil is concentrated in the service sector, which in 2021 accounted for 59% of GDP, followed by the industrial sector (19%), and the agriculture, forestry, and fisheries sector (7%). When including the entire supply chain and factors of production for agriculture, forestry, and fisheries, this sector accounts for more than 20% of GDP in 2021. Brazil has a substantial natural resource base that has allowed it to become a major global exporter of multiple commodities, including sugar, soybeans, coffee, beef, and wood pulp, driving the country's exports of goods and services as a share of GDP from 11% to 20% between 2000 to 2021.
A lost decade for inflation: adjusted GDP growth in Brazil prior to 2021
Real Brazilian GDP annualized rate of change, YoY (%)
Source: Macrobond, August 2022. YoY refers to year over year.
After experiencing a decade of robust, upward trending growth in the 2000s, Brazil's economic progress stalled in the 2010s, when the country faced challenges in the decade leading up to 2020, experiencing major political and social dislocations, including a presidential impeachment, two major economic recessions, the substantial depreciation of the Brazilian real, and a major downward correction in markets for key agricultural and mineral export commodities. This political and financial turmoil and the failure to address fundamental problems in Brazil's business environment undermined investor confidence and contributed to the decline in FDI and the contraction in the economy over the past decade. 
A challenging political and economic environment drives FDI lower from 2011 peak       
FDI, net inflows (BoP, current USD) and FDI as % of GDP
Source: World Bank Development Indicators Data, 2022. FDI refers to foreign direct investment. BoP refers to balance of payments.
Brazil staged a relatively strong recovery of 5% GDP growth in 2021 coming out of the pandemic-triggered recession, supported in part by the strong rebound in commodity markets. This boost to economic growth was accompanied by resurgent inflation that forced the central bank to embark on a historic monetary policy tightening cycle through much of 2022, and a combination of rising political uncertainty, the correction in global commodity markets, a hawkish U.S. Federal Reserve, and heightened risk of a global recession weighed on the Brazilian real.  A weaker currency can be a headwind for a country's economy, increasing the price of imported goods and services, but can also have positive implications for export-oriented sectors and improve their competitive position in international markets. The weaker real has reduced USD-denominated production costs and boosted the competitive position of Brazilian forest products exports such as pulp and wood products. 
The Brazilian real has depreciated and remains volatile in the face of an uncertain political and economic environment
FX rates USD per BRL
Source: Macrobond data, 2022. USD refers to the U.S. dollar. FX refers to foreign exchange. BRL refers to the Brazilian real.
Looking forward
Brazil is among the world's largest developing economies and has a timberland plantation land base that's attracting institutional investment in hi