Manulife Investment Management recognized for exceptional performance for the second year in a row by Investment Executive.
Overview
We're proud to be recognized by Investment Executive as the top performing Canadian asset manager in 2020. Manulife Investment Management's mutual fund family led in investment performance for the year ending Dec 31, 2020 with 87.9% of long-term assets under management (AUM) held in funds ranked in the top quartiles by Morningstar Canada. Learn more (article in English only)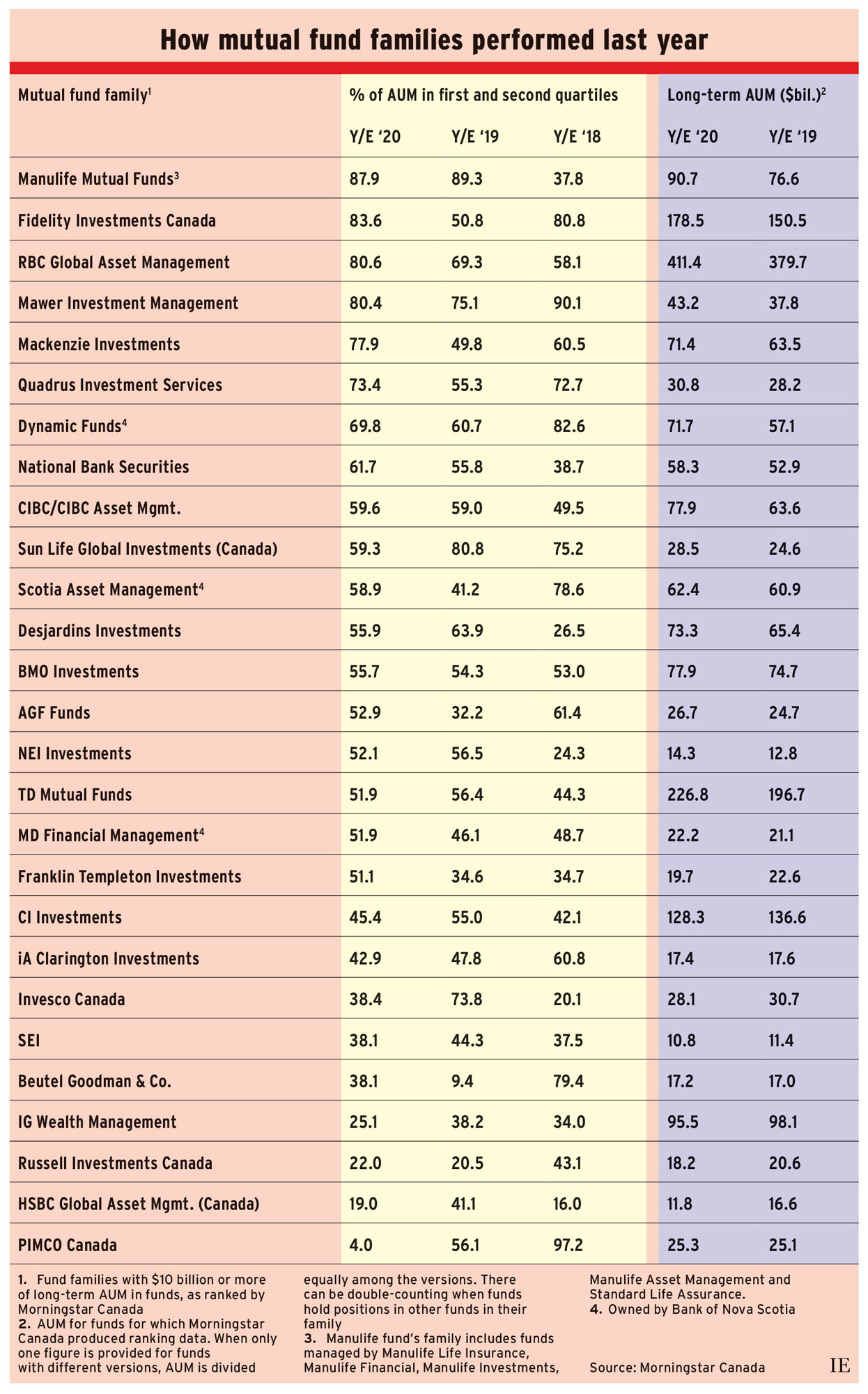 Source: Investment Executive, February 22, 2021. Chart is English only.
Featured Funds
Open the doors to a broad suite of investment solutions across asset classes and geographies.
---
Overview
Manulife Investment Management has been recognized for segregated fund leadership once again by Investment Executive magazine. Among all segregated fund providers in Canada, Manulife ranked second overall in terms of percentage of funds ranked in the first or second quartile for the year ended December 31, 2020 (according to Morningstar Canada data). More details available here (article in English only).
(Excluding companies with less than $5B of AUM, Manulife's segregated funds came out on top)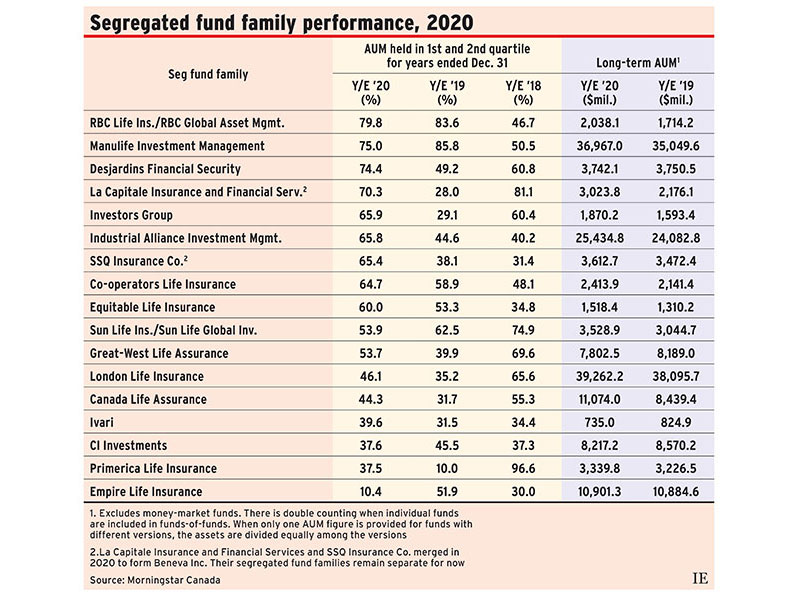 Source: Investment Executive, February 22, 2021. Chart is English only.
Featured funds in GIF Select InvestmentPlus 
GIF Select InvestmentPlus provides access to a wide range of investment options, including money market, fixed income, balanced and equity solutions, along with Guaranteed Interest Accounts (GIAs). 
Featured funds in MPIP Segregated Pools
Featuring pools, portfolios, and GIAs, this program is an exclusive wealth-building solution for investors with an investment of at least $100,000 per pool/portfolio/contract. ¹
---
1 Minimum initial investment per pool/portfolio, may be reduced depending on the total amount of assets invested. For invested assets between $100,000 and $249,999, minimum per pool/portfolio is $100,000. For invested assets of $250,000 or more, the minimum per pool is $1,000. $1,000 per compound interest GIA term, $5,000 per monthly simple interest GIA term (provided contract minimums are met). Assets in the GIA(s) and DIA are included in the calculation to determining MFR eligibility, but do not receive an MFR.

© 2018 Morningstar, Inc. All Rights Reserved. The information contained herein: (1) is proprietary to Morningstar; (2) may not be copied or distributed; and (3) is not warranted to be accurate, complete or timely. Neither Morningstar nor its content providers are responsible for any damages or losses arising from any use of this information.

Commentary is for general information purposes only and shouldn't be relied on for specific financial, legal or other advice and does not constitute an offer or an invitation by or on behalf of Manulife Investments Management to any person to buy or sell any security.  Manulife isn't responsible for any losses arising from any use of this information.  Manulife mutual funds are managed by Manulife Investments, a division of Manulife Asset Management Limited.  Investment Management Limited (formerly named Manulife Asset Management Limited).  Manulife Investment Management is a trade name of Manulife Investment Management Limited.

Quartile rankings are determined by Morningstar The quartile measure shows how well a fund has  performed compared to all other funds in its [insert entity that maintains category] category peer group and are subject to change every month. The quartiles divide the data into four equal regions. The Top 25% of funds are in the first quartile, the next 25% of funds are in the second, and the next group is in the third quartile. The 25% of funds with the poorest performance are in the fourth quartile.

Commissions, trailing commissions, management fees and expenses all may be associated with mutual fund investments. Please read the fund facts and prospectus before investing. Mutual funds are not guaranteed, their values change frequently and past performance may not be repeated. This information does not replace or supersede KYC (know your client) suitability, needs analysis or any other regulatory requirements.