Investing in sustainable agriculture
Businesses, governments, and people from all walks of life are increasingly recognizing sustainable and responsible business practices as crucial to confronting some of the world's most pressing economic, social, and environmental challenges. More so now than ever, consumers insist on knowing that they're buying and eating sustainably grown food. The problem is that the agriculture sector has lacked a definitive standard for defining and measuring adherence to sustainable farming practices that can be applied across all crop types and geographies. To address that critical gap, we worked collaboratively with industry peers and nonprofit organizations to develop a new performance-based, industrywide sustainability standard for agriculture. Leading Harvest is the newly formed, nonprofit organization that will govern and maintain the Farmland Management Standard.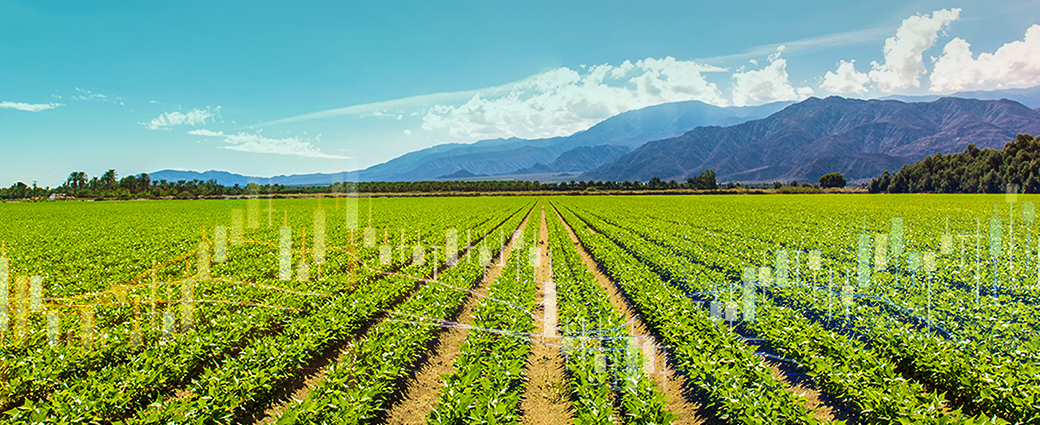 Sustainability goals are here to stay
Led by a vocal, rising generation, more people around the world are beginning to step up and do the right thing when it comes to sustainability—the implementation of practices now that will help future generations to attend to their own needs later.
In 2015, the United Nations General Assembly launched 17 Sustainable Development Goals, or SGDs, representing a "shared plan to end extreme poverty, reduce inequality, and protect the planet by 2030." Clean water and sanitation, responsible consumption and production, and climate action are just a few of the items on this bold, ambitious, and integrated agenda of sustainability goals, adopted by 193 countries.¹
Choreographed, coordinated international policy development isn't the only driver of forward momentum in the field. The call for sustainability goals also stems from more spontaneous, grassroots sources. Greta Thunberg, for example, a young Swedish climate activist "began a global movement by skipping school" in August 2018; in the months that followed, her local demonstrations garnered global attention, and Time magazine recognized her as its 2019 Person of the Year.²
Deriving its forward momentum from the top down and the bottom up, it seems sustainability has reached a tipping point. We believe the practice of setting, implementing, and achieving sustainability goals has become a human imperative that's likely to endure.
People are demanding sustainably grown food
From a finite supply of arable land, the planet needs to nourish and sustain a global population that's already grown to 7.8 billion, and is expected to continue to grow to nearly 10 billion by 2050.³ Recognizing the challenge to feed our increasing population, there's been growing demand for assurance around responsible environmental, social, and governance (ESG) practices, and it starts with the consumer.
Consumers are now more interested in knowing where their food comes from, how it's produced, and whether it's fundamentally safe. We expect the trend toward sustainably grown and supplied food to accelerate as a maturing cohort of millennials continues to distinguish itself from prior generations by embracing values-based consumption; in fact, three out of four millennials are willing to pay more for sustainable offerings.⁴
We expect the trend toward sustainably grown and supplied food to accelerate … in fact, three out of four millennials are willing to pay more for sustainable offerings.
Farmers and participants all along the food supply chain have taken note, but the lack of a universal standard has been problematic when attempting to provide the assurances that consumers want. As a global producer of sustainable food and fiber for the benefit of our clients and communities, one of our goals was to have access to a standard that offered the public some comfort in knowing which food products were being produced in a safe, sustainable, and certifiable manner.
Our agriculture sustainability journey has roots in the forest sector
To that end, we've worked to expand the reach of sustainability practices established in our timberland business by applying that same thinking to our agriculture business. As a timberland and farmland investment manager, we have insight into market trends and gaps in both sectors. We were an early mover in third-party certification in our timberland investments, and we've now managed third-party certified forests for over two decades.⁵ In 1999, the first of our managed timber properties was certified to the Forest Stewardship Council standard, and by 2002, all of our North American timber holdings were certified to the Sustainable Forestry Initiative (SFI) standard. Today we're the world's largest timberland manager for institutional investors, and we manage 100% of our forests globally in accordance with third-party sustainability standards.
In 2014, we began to mirror, adapt, and extend the sustainability protocols internalized in our timberland properties to our farmlands by establishing a set of stewardship principles. Our years of experience with these principles guided our contributions to the working group that would come to develop the Sustainable Agriculture Standard. Similar to forest certification programs, the new Leading Harvest Farmland Management Standard is designed to meet the ESG interests of investors, consumers, and the supply chain.
The Sustainable Agriculture Working Group got it done together
Just as we worked together with a broad coalition to address sustainability challenges in the timber sector, we partnered with colleagues across the agriculture sector to forge a shared standard for farmland management. In 2017, we helped convene the Sustainable Agriculture Working Group, which consisted of two leading environmental nonprofit organizations—the Conservation Fund and Manomet—and eight professional owner and management entities representing roughly 1.5 million farmland acres across twenty-two U.S. states and an additional 2.0 million acres in seven other countries.
At the time, the agriculture sector lacked a sustainability standard that could work across different crop types, production systems, scales, and geographies. However, we were confident that the working group's collective scale could lead the agriculture sector toward greater adoption of sustainable farming by developing and launching a new standard.
Using the SFI blueprint to create a similar standard for farmland, the working group collected input from a broad representation of interested parties—some four-dozen different sources, including farmers, environmental leaders, academics, government agencies, and investment managers.
The resulting standard is performance based and designed to help land managers achieve sustainability through continuous improvement on 13 specific operational objectives, collectively rigorous and complete, yet practical and obtainable.
13 principles of the Leading Harvest Farmland Management Standard
1 Sustainable agriculture
2 Soil health and conservation
3 Protection of water resources
4 Protection of crops
5 Energy use, air quality, and climate change
6 Waste and material management
7 Conservation of biodiversity
8 Protection of special sites
9 Local communities
10 Employees and farm labor
11 Legal and regulatory compliance
12 Management review and continual improvement
13 Tenant-operated operations
Source: leadingharvest.org/standard, 2020.

We believe Leading Harvest certification will eventually become an important part of the social license required by asset managers operating in farmland.
The standard is designed as a shared responsibility for sustainable practices throughout all areas of food production and distribution, applying to farmers, landowners, the supply chain, and consumers alike. We believe Leading Harvest certification will eventually become an important part of the social license required by asset managers operating in farmland. It's not about gaining a commercial advantage, it's about putting forth a standard that has the ability to scale up and deliver the outcomes that stakeholders of the global food system are seeking. Confirming that our own practices meet this new standard is the next logical step in our ongoing commitment to ESG integration for our clients and the communities in which we operate.
Our aspirations are global
We've always believed that good stewardship is good business, and adopting third-party certification as a proof point of sustainable agriculture will affirm that we're safeguarding our environment and the communities we touch.
While Leading Harvest's efforts have been dedicated to the agriculture sector in the United States, food security is a global issue. To that end, we're supportive of engaging in parallel discussion in other countries in which we operate, such as Australia and Canada. We're confident that such conversation will yield comparable advances in sustainable agriculture. Ultimately, we'd like to see certification systems such as these go global, much as they have in the forest sector.
We think we can continue to be a part of the global dialogue on sustainability, to help inspire those who produce and consume crops grown on farms around the globe. Big actions by a few players won't get the job done; it'll take a lot of small actions by all of us to be able to achieve globally sustainable agricultural practices. We believe this is an important area of focus, especially for investors who want to align their portfolios with ESG goals. Clients, employees, and communities can count on us to continue to do our part.
1 unfoundation.org/what-we-do/issues/sustainable-development goals/?gclid=EAIaIQobChMIqL7 S3qPl5gIVgZ-zCh0UYQ16EAAYASAAEgJNcvD_BwE, 2020. 2 time.com/person-of-the-year-2019-greta-thunberg-choice/, 2019. 3 worldpopulationhistory.org/map/2020/mercator/1/0/25/, 2020. 4 nielsen.com/wp-content/uploads/sites/3/2019/04/Global20Sustainability20Report_October202015.pdf, 2015. 5 prnewswire.com/news-releases/hancock-natural-resource-group-successfully-completes-inaugural-sustainability-examination-of-select-managed-agricultural-operations-300967592.html, 2019.
A widespread health crisis such as a global pandemic could cause substantial market volatility, exchange trading suspensions and closures, and affect portfolio performance. For example, the novel coronavirus disease (COVID-19) has resulted in significant disruptions to global business activity. The impact of a health crisis and other epidemics and pandemics that may arise in the future, could affect the global economy in ways that cannot necessarily be foreseen at the present time. A health crisis may exacerbate other preexisting political, social, and economic risks. Any such impact could adversely affect the portfolio's performance, resulting in losses to your investment

Investing involves risks, including the potential loss of principal. Financial markets are volatile and can fluctuate significantly in response to company, industry, political, regulatory, market, or economic developments. These risks are magnified for investments made in emerging markets. Currency risk is the risk that fluctuations in exchange rates may adversely affect the value of a portfolio's investments.

The information provided does not take into account the suitability, investment objectives, financial situation, or particular needs of any specific person. You should consider the suitability of any type of investment for your circumstances and, if necessary, seek professional advice.

This material, intended for the exclusive use by the recipients who are allowable to receive this document under the applicable laws and regulations of the relevant jurisdictions, was produced by, and the opinions expressed are those of, Manulife Investment Management as of the date of this publication and are subject to change based on market and other conditions. The information and/or analysis contained in this material has been compiled or arrived at from sources believed to be reliable, but Manulife Investment Management does not make any representation as to their accuracy, correctness, usefulness, or completeness and does not accept liability for any loss arising from the use of the information and/or analysis contained. The information in this material may contain projections or other forward-looking statements regarding future events, targets, management discipline, or other expectations, and is only as current as of the date indicated. The information in this document, including statements concerning financial market trends, are based on current market conditions, which will fluctuate and may be superseded by subsequent market events or for other reasons. Manulife Investment Management disclaims any responsibility to update such information.

Neither Manulife Investment Management or its affiliates, nor any of their directors, officers, or employees shall assume any liability or responsibility for any direct or indirect loss or damage or any other consequence of any person acting or not acting in reliance on the information contained herein. All overviews and commentary are intended to be general in nature and for current interest. While helpful, these overviews are no substitute for professional tax, investment, or legal advice. Clients should seek professional advice for their particular situation. Neither Manulife, Manulife Investment Management, nor any of their affiliates or representatives is providing tax, investment, or legal advice. This material was prepared solely for informational purposes, does not constitute a recommendation, professional advice, an offer, or an invitation by or on behalf of Manulife Investment Management to any person to buy or sell any security or adopt any investment strategy, and is no indication of trading intent in any fund or account managed by Manulife Investment Management. No investment strategy or risk management technique can guarantee returns or eliminate risk in any market environment. Diversification or asset allocation does not guarantee a profit or protect against a loss in any market. Unless otherwise specified, all data is sourced from Manulife Investment Management. Past performance does not guarantee future results.

Manulife Investment Management

Manulife Investment Management is the global wealth and asset management segment of Manulife Financial Corporation. We draw on more than 150 years of financial stewardship to partner with clients across our institutional, retail, and retirement businesses globally. Our specialist approach to money management includes the highly differentiated strategies of our fixed-income, specialized equity, multi-asset solutions, and private markets teams, along with access to specialized, unaffiliated asset managers from around the world through our multimanager model. 

These materials have not been reviewed by and are not registered with any securities or other regulatory authority, and may, where appropriate, be distributed by the following Manulife entities in their respective jurisdictions. Additional information about Manulife Investment Management may be found at  manulifeim.com/institutional.

Australia: Hancock Natural Resource Group Australasia Pty Limited, Manulife Investment Management (Hong Kong) Limited. Brazil: Hancock Asset Management Brasil Ltda. Canada: Manulife Investment Management Limited, Manulife Investment Management Distributors Inc., Manulife Investment Management (North America) Limited, Manulife Investment Management Private Markets (Canada) Corp. China: Manulife Overseas Investment Fund Management (Shanghai) Limited Company. European Economic Area and United Kingdom: Manulife Investment Management (Europe) Ltd., which is authorized and regulated by the Financial Conduct Authority; Manulife Investment Management (Ireland) Ltd., which is authorized and regulated by the Central Bank of Ireland Hong Kong: Manulife Investment Management (Hong Kong) Limited. Indonesia: PT Manulife Aset Manajemen Indonesia. Japan: Manulife Investment Management (Japan) Limited. Malaysia: Manulife Investment Management (M) Berhad (formerly known as Manulife Asset Management Services Berhad) 200801033087 (834424-U). Philippines: Manulife Asset Management and Trust Corporation. Singapore: Manulife Investment Management (Singapore) Pte. Ltd. (Company Registration No. 200709952G). South Korea: Manulife Investment Management (Hong Kong) Limited. Switzerland: Manulife IM (Switzerland) LLC. Taiwan: Manulife Investment Management (Taiwan) Co. Ltd. United States: John Hancock Investment Management LLC, Manulife Investment Management (US) LLC, Manulife Investment Management Private Markets (US) LLC, and Hancock Natural Resource Group, Inc. Vietnam: Manulife Investment Fund Management (Vietnam) Company Limited.

Manulife Investment Management, the Stylized M Design, and Manulife Investment Management & Stylized M Design are trademarks of The Manufacturers Life Insurance Company and are used by it, and by its affiliates, under license.

 

510734