Family structural change and retirement security in Asia
The concept of family has evolved, and attitudes, as well as dependence on familial support, must evolve with it. While Asia's demographic trends may be broadly consistent, different factors are in play depending on the birth rates and population goals in individual countries or markets.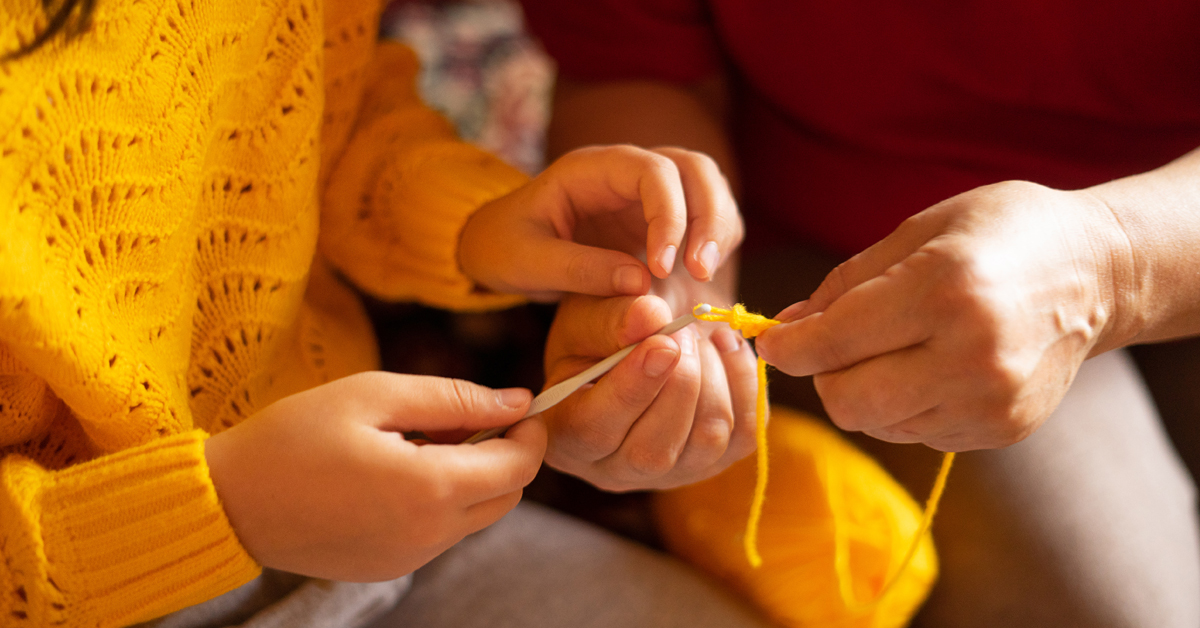 The demographic challenge has already led to the announcement of several government policies and intervention measures aimed at increasing birth rates and encouraging more children. For this article, we want to raise other critical issues. For example:

How should the complexities of the family structure be recognised and addressed?
How will changing family dynamics affect the retirement readiness and quality of life for the future cohort of older adults?
What issues and mind-sets should be embraced in Asia that are typical only to Asian family values?
We've gathered insightful data and proprietary research into family structures across our chosen markets of Hong Kong, Indonesia, Malaysia, and Taiwan. Our aim is to highlight how the changing nature of family life is having an effect on retirement security; in particular, financial and instrumental support to older adults, now and in the future. The content has been developed in partnership with the Sau Po Centre on Ageing at The University of Hong Kong.1
What is a family structure? There's more than one dimension to consider.
In Asia, one common trend among most of our observed markets is the shrinking family size. And in contrast with Western countries, most older adults in Asia still reside with their children, even if that proportion decreases over time.
For this paper, we've elected to consider familial changes in each of our four markets across the following two dimensions:
Horizontal — Determining how household sizes have changed in recent decades
Vertical — Considering contemporary surviving generations and living arrangements in the household
These dimensions (household sizes and living arrangements) have been chosen because there are overlaps between the concept of family and household. While the household is one of the most commonly used social and budgetary units (Fan, C.C., 2022), for older adults, their living arrangements are usually a significant determinant of their economic welfare (Tung & Lai, 2012). Living arrangements also imply the availability of different types of familial support.
What are the changes in household size observed in the four markets?
Over the past two decades, the average household size (the horizontal dimension) across all four Asian markets has been shrinking gradually, although the rate of change is less significant for Indonesia². The average household size:
In Hong Kong, has fallen from 3.3 persons in 2000 to 2.7 persons in 2021³
In Taiwan, has fallen from 3.3 persons in 2000 to 2.8 persons in 2020⁴
In Malaysia, has fallen from 4.6 persons in 2000 to 3.8 persons in 2020⁵
Whereas in Indonesia, it's increased from 3.9 persons in 2000 to 4.0 persons between 2005 and 2009 before returning to 3.9 between 2010 and 2019 (the most up-to-date data available)⁶
According to our observation, shrinking family size is a common trend among most of the observed markets. How about living arrangements?
The following paints a broad-brush international comparison of living arrangements for the world's major markets. Compared with developed markets in Europe and North America, living with adult children (therefore likely more shared monetary support) has still been the mainstream living arrangement of older adults in Asia, regardless of observed shrinking family size. Notably, Asia also has the lowest rate of its older population living alone globally.

Living arrangement (or co-residence in some literature) is usually treated as a proxy to indicate the availability/mechanism of familial social or emotional support.
Distribution of men and women aged 60-79 years and aged 80+ years by type of household living arrangement, 2010 or later (%)
Older person's living arrangements: Hong Kong, Taiwan, Malaysia, and Indonesia⁷
In our focused markets:
The proportion of Hong Kong's older persons living with a spouse and children has remained unchanged at around 30% since 2006.
51.2% of Taiwan's population aged 65 or above lived with their children.
70.1% of Malaysia's older population lived with family members and others in their household.
Most of Indonesia's 60+ population still lives with extended families; close to 60% live with their adult children.
Key findings and our interpretations
The changing shape of the family structure, which can be attributed to multiple factors, including modernisation and urbanisation, is a universal challenge faced not just by markets in the Asia-Pacific region but by Western countries. As Megan Gilligan describes: "a shift in the structure of families from a pyramid-like structure, with multiple individuals at the base, to a longer, thinner structure that more closely resembles a beanpole" (Gilligan et al., 2018).
However, in contrast with Western countries, most older adults in Asia still reside with their children, even if that proportion decreases over time. Hong Kong, for example, is an affluent market characterised by having an increasing proportion of singleton and couple-only older households and is, therefore, tracking more closely to the "beanpole" family structure demonstrated in the West.
Moreover, although children are commonly viewed as important potential sources of social insurance in old age across most of Asia, this is under threat by the declining fertility rate. There are few signs that this trend will reverse, even with government intervention. As a result, the next generations must not only provide support for their retired parents but also prepare for diminished upstream familial support during retirement and old age.
We should also note that as family structures have changed, those supporting mechanisms are also evolving; in other words, there are dynamic patterns of intergenerational support in each welfare regime. Therefore, using long-established descriptions of living arrangements may not adequately portray the networks, pathways, and direction of support between older persons and those they call family (UNDESA, 2017). For example:
There are increasingly common arrangements in many developing countries where children live in multiple-family compounds or in the same neighbourhood as their older parents
Potential support from children or extended family living in the same township or city as their older parents while not cohabiting with them
Unspecified support can be either upstream (from children to older parents) or downstream (from older parents to children, more details in the next section)
In summary, while family structures are increasingly complex and nontraditional, this does not necessarily lead to the comclusion that they are broken and the older generation is being abandoned. Beyond the household size and the living arrangement, in terms of old age support, "family members' capacities vary, and competing values beckon" (Kreager & Schröder-Butterfill, 2008). The diversity of intergenerational support flows may suggest that family systems have more flexibility and adaptive capacity, therefore "a much closer look at the structure and content of flows of support over time is needed, and the patterns of actual support require comparing to stated norms" (Kreager & Schröder-Butterfill, 2008).
"In summary, while family structures are increasingly complex and nontraditional, this does not necessarily lead to the conclusion that family structures are broken and the older generation is being abandoned."
Case study: Hong Kong—is living in a lower-cost area a viable alternative?
To most Hong Kong citizens, maintaining the same standard of living in Hong Kong for years after retirement seems like a challenge. And most older persons in Hong Kong are more likely to live in the domestic household instead of non-domestic households (e.g., hospital, elderly homes or other third places represent less than 10% of total older persons according to 2016 Census and Statistics Department Figure).
But what if Hong Kong retirees choose to move to another city where the cost of living is lower, so they can enjoy the benefits of a lower cost of living while still retaining easy access to Hong Kong's quality healthcare system?
This illustrative example explores a way to acquire a second home in a lower-cost area post-retirement. The charts below (using Hong Kong as the base city) shows that the overall cost of living (consumer prices excluding rent) in Greater Bay Area cities such as Guangzhou, Shenzhen, Zhuhai, and Dongguan can be as much as 20% to 40% lower than living in Hong Kong. Rent is the key differentiator, which is estimated at 60% to 80% lower in these four areas. This means that retirement living in these Greater Bay Area cities requires much lower spending when compared with retiring in Hong Kong.
Therefore, while many worry that their retirement funds aren't sufficient to support quality retirement living, the place they live when they retire could make a significant difference in how long their savings last to support their retirement.
Overall cost of living in Greater Bay Area cities (using Hong Kong as the base city)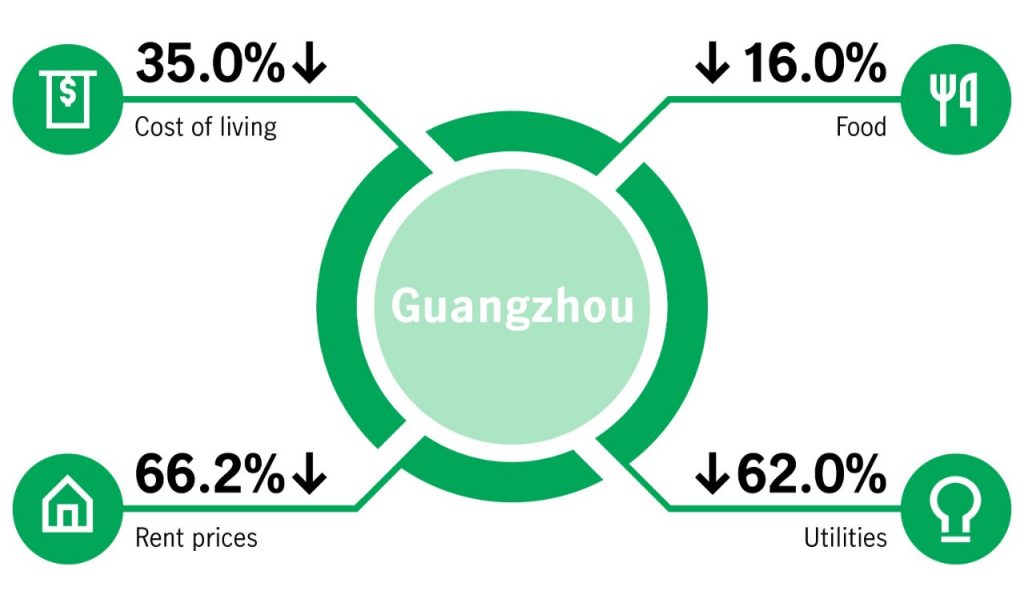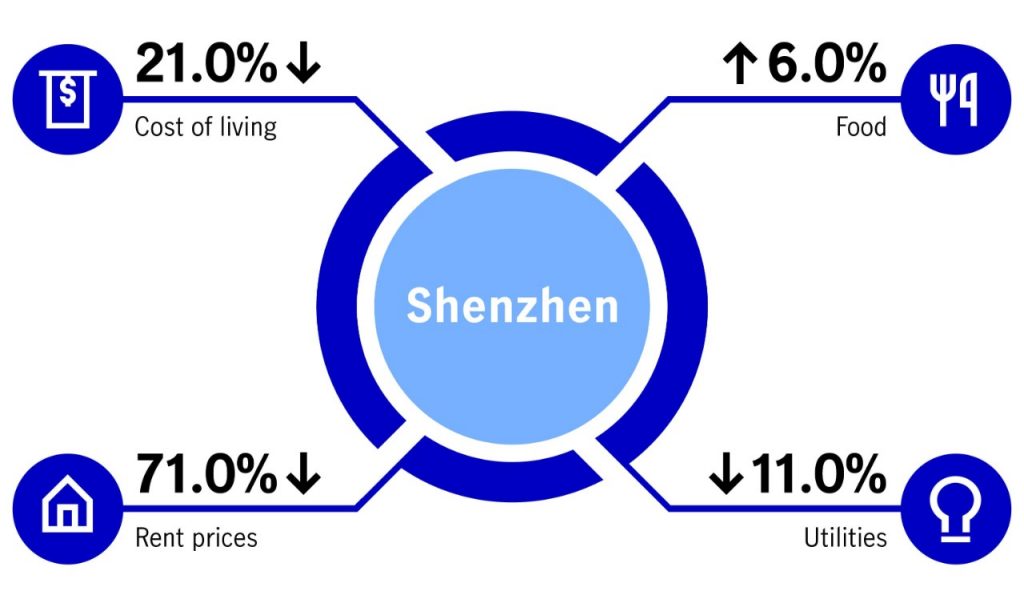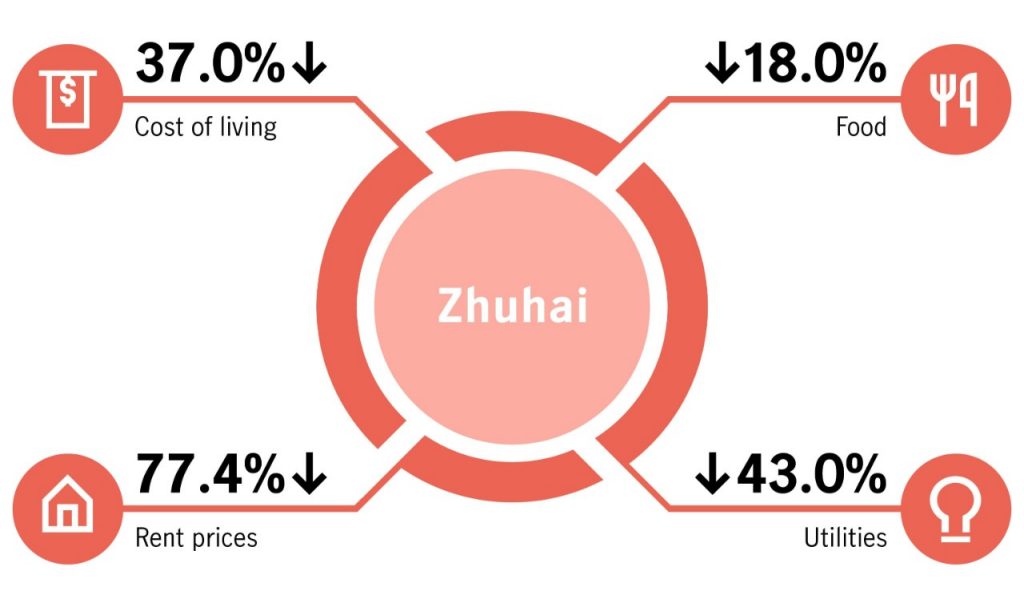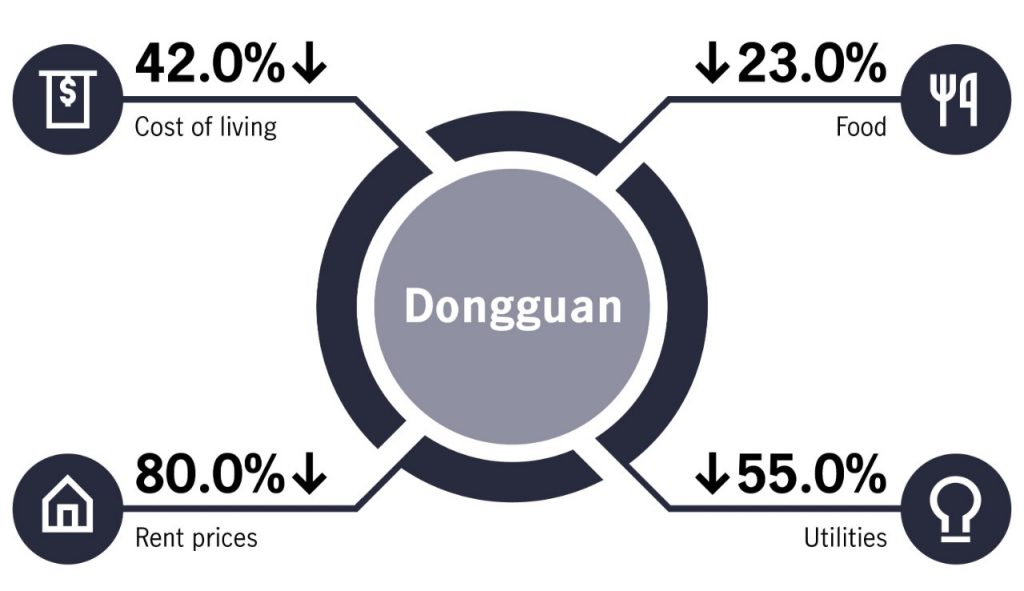 Source: Manulife study; data from EIU, as of September 2022.
Intergenerational familial support and old-age security
Next, we investigate how older adults finance their retirement (i.e., the composition of income sources) in our four markets, as well as explore the role that intergenerational exchange (support) plays in old-age security. There are essentially four main categories of familial support (Gillen et al., 2012, p.4):
Financial support—Can involve providing financial resources, including paying bills, buying goods or services, or offering capital or credit
Instrumental support—Can include a wide range of help, such as housework, cooking, shopping, running errands, transport, and personal care
Emotional support—Can be as nonspecific as simply showing care and compassion for older persons, helping them to cope with their emotions and experiences, or ensuring they don't feel isolated and alone (particularly important during old age)
Informational support—Includes offering advice, guidance, or useful information on a broad variety of subjects, including financial, health, or other digital/administrative assistance. (Gillen, et. al., 2012, p.4)
What factors influence the transfer of resources between different generations in our observed markets? 
Using an intergenerational solidarity framework, a scope review8 (Wong et al., 2020) identified the main factors associated with intergenerational transfer. In this context, intergenerational transfers are defined as any family-based support that flows from older to younger generations or vice versa. The review placed these factors into four distinct categories:
Demographics such as age, gender, marital status, education, and ethnocultural background);
Needs and opportunities, including health, financial resources, and employment status;
Family structures namely, family composition, family relationship, and earlier family events; and
Cultural-contextual structures including state policies and social norms.
Within the scope review, it was found that people in Asia received the highest proportion of financial support from family (Wong et al., 2020), a conclusion arrived at by drawing an international comparative study by Khan (2014). More importantly, this review suggests a useful framework for analysis and organising the interwoven factors in dimensions (i.e., financial and instrumental) and directions (i.e., unidirectionally and bidirectionally). This will help inform our research and broader views on the transfer of resources between generations across our four markets of Hong Kong, Taiwan, Malaysia, and Indonesia.
Hong Kong—increasing self-reliance among older adults
In Hong Kong, living with the younger generation had the tendency to increase finance and care transfers, and the number of children was positively associated with monetary support. Previous research (Chou, 2008) found that compared with the number of siblings who also provided financial support to their older parents, the earning capacity of adult children is a stronger predictor of the amount of monetary support provided to older parents (p.797).
However, Hong Kong's declining birth rate, and subsequent smaller family sizes, continues to threaten the foundations of family care. Moreover, the explosion of housing costs and the rising cost of daily living have contributed to a worsening financial situation for older adults; it has also undermined the younger generation's financial capacity to care for their older parents.
In response to these new familial and sociocultural realities, Hong Kong's older population has been forced to modify their long-standing filial care expectations (Bai, 2019) and continue working to pay for their upkeep. Over the past decade, the number of working older persons has more than doubled (up by 136.6%), mainly due to the surge in working older persons in the 65 to 74 age category.
Not all older persons are able to keep working in old age, however. In fact, older-persons-only households without employment income increased at a much higher rate of 80.6%, with median monthly domestic household income increased from $3,200 to $5,780 over the same 10-year period. This significant increase in income among older-persons-only households without employment income was partly caused by the increase in cash social benefits distributed by the Government of Hong Kong Special Administrative Region. These benefits include the Old Age Living Allowance, which was introduced in 2013 to support older persons in need of financial support (Census & Statistics Department, 2016). As a result, the increasing importance of welfare (public money) and older adults' own labour income for Hong Kong's older population continues to be evident.
Taiwan—role of filial supports remains yet crowding out public transfer effect
Taiwan is projected to become a super-aged society within the next decade. In Taiwan, the support of older parents is a statutory obligation for adult children and is still considered a societal norm. As a result, Taiwan's society embraces the concept of strong family ties and local communities that allow the older population to age actively in place. In 2017, Taiwan's Report of the Senior Citizen Condition Survey by the Ministry of Health and Welfare reported that 98% of people aged 65 and older live at home, and nearly two-thirds of people aged 65 and above live with their children or other family members, while over 33% live in a three- or four-generation household.
Higher education levels of adult children, the presence of younger grandchildren, and older people's ownership of properties have been three factors correlated with higher co-residence of older and younger generations. Sources of financial support for the older population are relatively balanced, with adult children or grandchildren being the main income source of around one-quarter (24.3%) of people older than 65. Even so, a decreasing trend has been noted more recently, in part because Taiwan's government has stepped up efforts to establish a long-term care system that includes increasing coverage of pensions and insurance for the older population.
Malaysia—survey suggests overall intergenerational support for the older adults
In Malaysia, it's considered the children's responsibility to give attention and support to their parents. A national survey showed overarching support has been provided to older adults from younger generations. Most of Malaysia's older population (95.3%) receives support in the form of financial assistance, cooking and serving food, doing household chores, and for companionship and accompanying them on outings and visits. Whereas male offspring tend to provide financial support, female offspring are expected to provide support to parents (and in-laws) in the form of daily necessities and food (NPFDB, 2016).
But as no income source data was made available, it's harder to determine the proportion of assistance and, therefore whether any gaps exist. Most familial support studies tend to focus on diversity among major ethnic groups or from a gender perspective.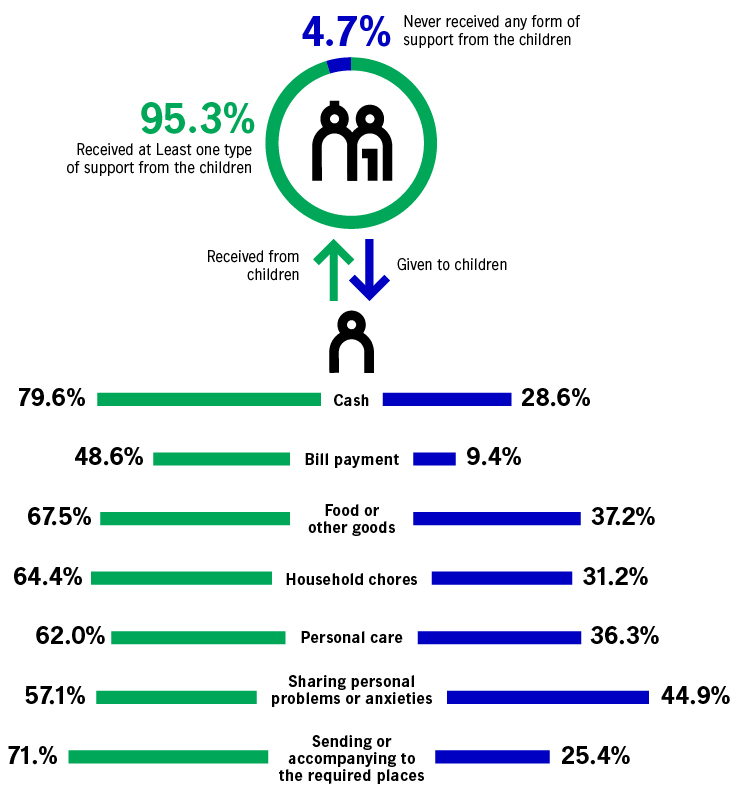 Source: National Population and Family Development Board (NPFDB). (2016). Report on Key Findings FIFTH MALAYSIAN POPULATION AND FAMILY SURVEY [MPFS-5] 2014. Malaysia.
Indonesia—co-residency and adult children remittance
In Indonesia, as in other developing countries in the region, support for older adults has primarily come from networks of families or relatives (Park, 2003; Huangfu & Nobles, 2022); shared residences are an important mechanism for familial support (Witoelar, 2012). In addition, financial assistance often comes in the form of remittances received from adult children who have migrated elsewhere. For these migrants, "remittance is a currency of care." (Hoang & Yeoh, 2015, p.3).
Child-to-parent transfers weren't much associated  with parents' income or assets, and amounts transferred tend to increase along with parents' age.