A commitment to sustainability
What sets us apart?
Our approach to sustainability combines a macro perspective on ESG risks, opportunities, and imperatives with the depth of local market expertise. As both an asset manager and owner/operator, we have a unique perspective on navigating sustainability's systemic challenges and opportunities. These facets of our identity help us develop and synthesize innovative global frameworks for sustainability analysis and asset management that work in the local context.
Top scores from the Principles
for Responsible Investment (PRI)1

For strategy and governance

For equity integration

For SSA fixed income (sovereign, supranational, and agency debt)

Stewardship

Engagement interactions globally in 2020 – up from 940 in 2019 (across public markets)

Climate action

Named to PRI Leaders' Group 2020 for excellence in climate reporting2

In 2020, we published our first climate-related financial disclosure report (TCFD)


Invited by the Japanese government to join the TCFD consortium—the world's first-ever summit on the implementation of the TCFD 

Award winning team

Winner of 2019 SDG Canadian leadership awards from the Global Compact Canadian Network

Public markets ESG team won "Best ESG Team: North America" award from Capital Finance International — 2019 and 2020
Manulife Investment Management's scores in the Principles for Responsible Investment (PRI) annual responsible investment assessment report for 2019

A+

Strategy and governance  
Equity integration
SSA fixed-income integration (sovereign, supranational, and agency debt)

A

Real estate
Listed equity active ownership
Fixed-income integration (corporate financial, corporate nonfinancial, and securitized)

B

Infrastructure
Private equity (in our first filing for both modules)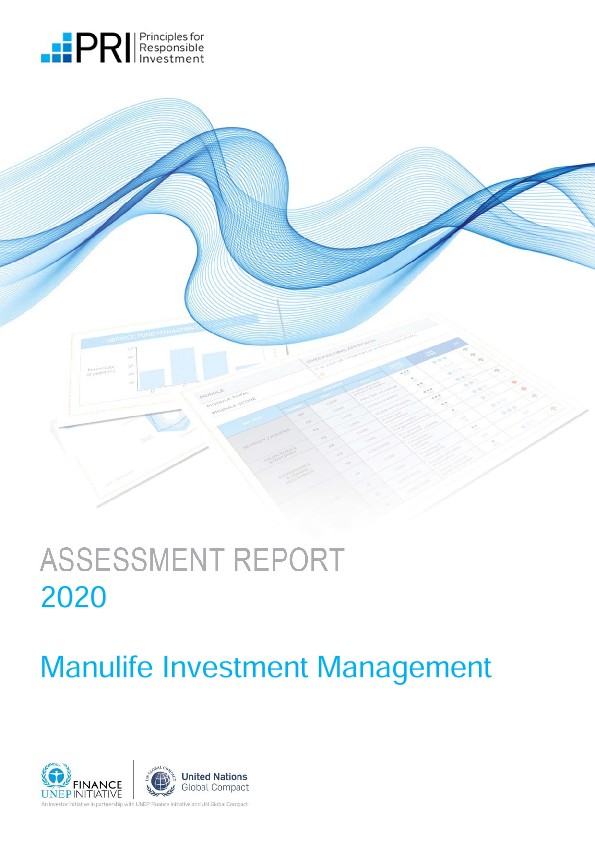 Download our latest PRI assessment report for details on our:
Peer-relative SRI scores
Year-over-year performance across SRI categories
Please visit the PRI website to learn more about the
assessment methodology or to see our transparency report
Our approach
Sustainability as standard in every strategy¹
We believe that ESG risks and opportunities contribute to an investment's overall risk and return profile and harnessing the opportunities and managing those risks can benefit investors. As stewards of client capital, we have a responsibility to allocate to the companies and issuers that we believe are most resilient to ESG risks and/or best positioned to take advantage of ESG opportunities.

We believe that active management and sustainable investing go hand in hand. We actively engage with the companies in which we invest to assess their business models against sustainability risks and opportunities, with a focus on enhancing and improving their operating strength through the adoption of sustainability best practices.
ESG integration 

We integrate ESG analysis into the investment process across asset classes

Stewardship

We have strong stewardship practices to both help protect the health of individual investments and to foster the strength and sustainability of the systems on which those investments depend

Collaboration

We work with regional and international organizations to address the sustainability issues our world faces
Third party partners 

We carry out extensive research and due diligence on the sustainability practices of third party managers to be able to offer you a range of investing solutions from leading investment managers
1 We look to incorporate material ESG considerations throughout the stages of our investment and asset ownership lifecycles, taking into account the characteristics of the asset class and investment process in question, as well as industry and geography, among other factors.  Each investment team operates in different markets and with different nuances to its approach to investing. Accordingly, each team integrates ESG factors into its investment process in a manner that best aligns with its investment approach. For illustrative purposes.
Stewardship
Engaging with the companies in which we invest
We believe that portfolio sustainability can be best achieved, if managed actively. As stewards of our clients' investments, we seek to create a positive impact by engaging with companies to mitigate ESG-related challenges and enhance ESG-related opportunities. We believe that identifying and assessing ESG issues and opportunities helps protect and enhance the value of the assets we own and operate.
Engagement factor focus, FY 2020
Source: Manulife Investment Management, December 31, 2020. 
| Top 10 engagement topics* | E, S, G | Number of engagements |
| --- | --- | --- |
| Board independence | G | 101 |
| Shareholder rights | G | 82 |
| Executive compensation | G | 74 |
| GHG emissions | E | 53 |
| Energy management | E | 41 |
| Labor practices | S | 37 |
| Employee engagement, diversity & inclusion | S | 33 |
| Waste & hazardous materials management | E | 33 |
| Employee health & safety | S | 30 |
| Management of the Legal & Regulatory Environment | S | 28 |
* Table reflects the largest single-factor topics. ESG due diligence and disclosure, which crosses all factor categories, was the most common engagement topic, numbering 183 engagements. Source: Manulife Investment Management as of December 31, 2020. 

* Engagement statistics for 2020 reflect expanded engagement tracking. 

Source: Manulife Investment Management as of December 31, 2020.
What is sustainable investing?
Sustainable Investing refers to the incorporation of environmental, social and governance (ESG) factors into the selection and management of investments. By systematically integrating these factors across every stage of the investment process, sustainable investing seeks to improve a portfolio's risk-adjusted return potential.
A wide range of factors that can affect investment returns
Environmental

How a company's operations affect the natural environment, and how the natural environment affects the company.

Climate change and carbon emission
Air and water pollution
Biodiversity
Energy efficiency
Deforestation
Waste management
Water scarcity

Social

The relationship between a company and its employees, suppliers, and communities.

Customer satisfaction
Data protection and privacy
Gender and diversity
Community relations
Employee engagement
Human rights
Labour standards

Governance

The structures or systems a company has put in place to ensure effective direction and control.

Board composition
Executive compensation
Audit committee structure
Bribery and corruption
Lobbyings
Political contributions
Whistle-blower schemes
Sustainable investing: why now? 
The rise of sustainable investing has been well documented and shows no sign of slowing down. As of 2020, over USD $35 trillion¹ was invested globally in sustainable and responsible strategies, while in Canada over 60% of professionally invested money was allocated to these types of strategies. While it began as a specialist approach, sustainable investing is now a powerful and enduring megatrend that's transforming how people and institutions are investing around the globe.
Sustainable investing by the numbers

Up 48%

Assets in Canada managed with at least one RI strategy 2018-20201

62%

Of professionally managed assets in Canada is in responsible investments1

75%

Of surveyed investors in Canada want their financial advisors to inform them of sustainable investing options2
1 Global Sustainable Investment Review 2020 – Global Sustainable Investment Alliance.

2 2020 RIA investor opinion survey.
---
Our sustainability resources
April 16, 2021
New investment solutions favour companies with strong strategies to reduce carbon emissions.
February 11, 2021
Investors have a vital part to play in ensuring corporations help meet the required reductions in carbon emissions set out by the Paris Agreement and in doing so, can also enhance returns.
February 1, 2021
In a wide-ranging interview, two environmental, social, and governance (ESG) investment leaders from Manulife Investment Management discuss how ESG is transforming investing globally and how their active approach sets them apart.
Commissions, trailing commissions, management fees and expenses all may be associated with mutual fund investments. Please read the fund facts as well as the prospectus before investing. Mutual funds are not guaranteed, their values change frequently and past performance may not be repeated.