Stress, finances, and well-being
The third annual Manulife Retirement stress, finances, and well-being survey shows that the economy is the top worry for many Canadian workers. And 7 in 10 say the economy isn't just affecting their financial well-being, it's affecting their mental health.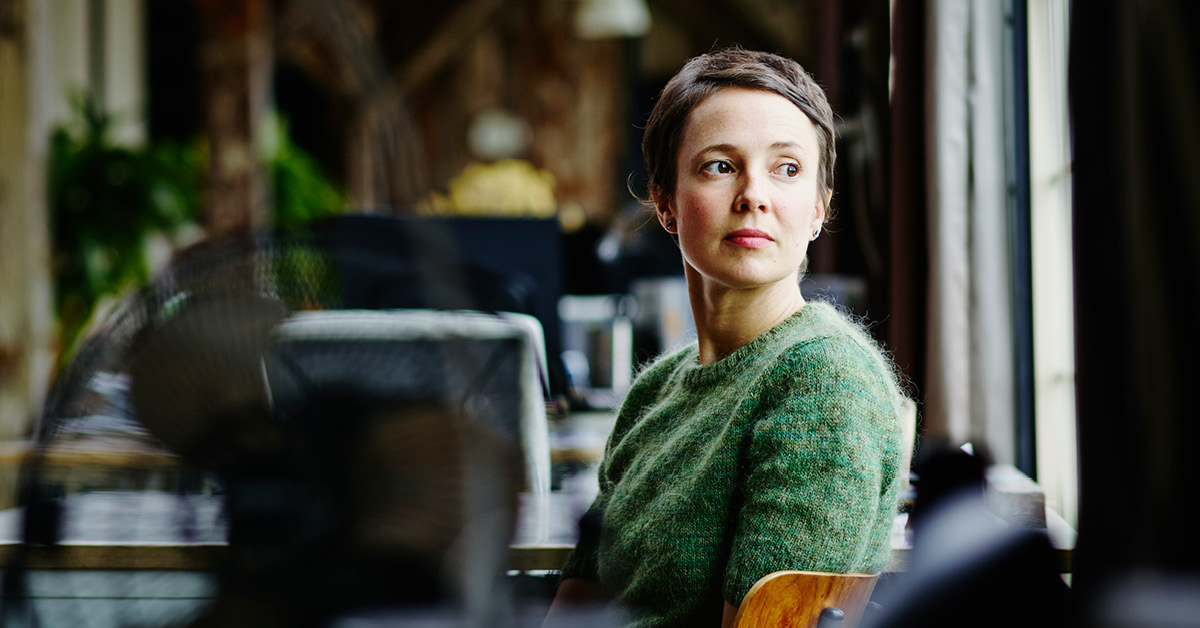 What are the causes of financial stress?
Finances are causing stress for 72% of workers, and in a break from past years, the economy is their top worry. Rising interest rates, persistent inflation, and continued market volatility are clearly on the minds of Canadian workers.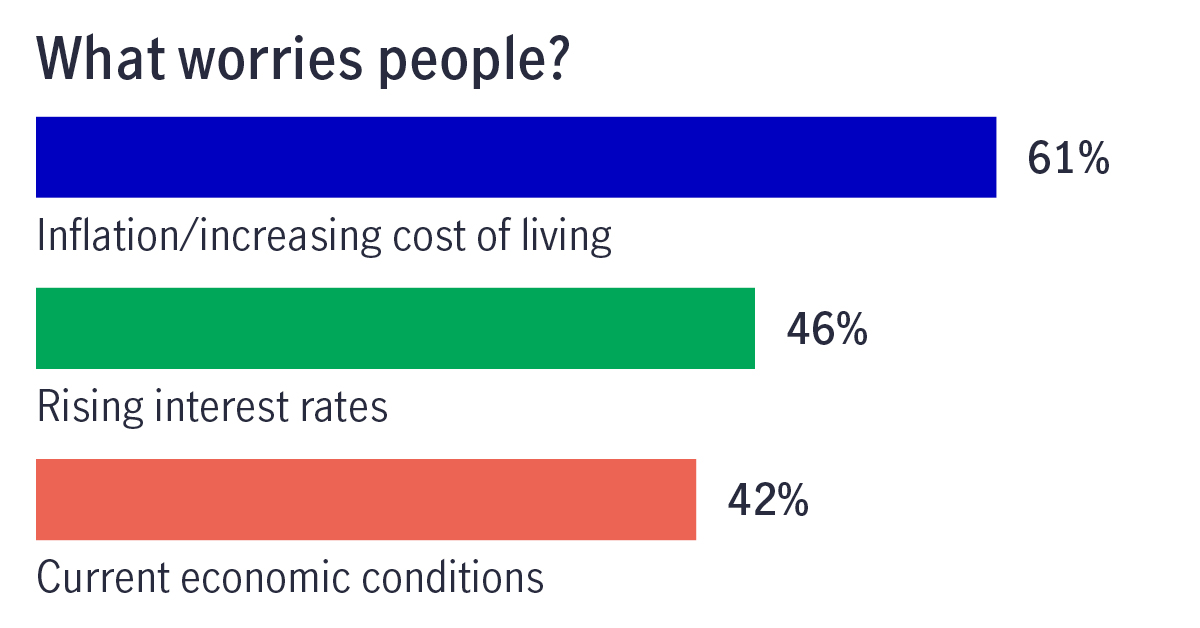 Source: Manulife stress, finances, and well-being survey, 2022.
Top 5 financial worries 
Credit card debt
Not having enough emergency savings
Not having enough retirement savings
Repaying student loans
Current financial situation
Economic instability is affecting personal finances, especially short- and long-term saving. Workers report that: 
Some have dipped into their savings to be able to afford daily life
Saving is a struggle 
They're falling behind on saving for retirement
And nearly all Canadian workers are feeling the crunch as everyday goods get more expensive and they're shifting their spending. 
Only 1 in 5 Canadian workers now describe their financial situation as very good or excellent, but those with a financial advisor and/or a plan for retirement are more likely to say they have a very good or excellent financial situation.
Mental health and well-being at work

As inflation and interest rates rise, so too does the effect of financial stress in the workplace: 

7 in 10 say mental health has interfered with their ability to work in the past year

2 in 3 workers reported feeling burnout at work 
Job security may be another contributing factor to stress at work—more than half of Canadian workers aren't confident in their job security; Gen Zers and millennials are the least confident in their job security 
Most Canadian workers worry about their personal finances during work: 1 in 3 often, 4 in 5 at least sometimes 

Of those who worry, 1 in 2 feel they'd be more productive if they didn't worry: Those at small and medium-sized companies are more likely to say they'd be more productive if they didn't worry about their finances at work
Canadian workers spend on average 2.4 hours on their personal finances at work each month 

1 in 10 Canadian workers have missed work due to financial stress in the past six months. 

The cost of financial stress

Financial stress is costing employees and employers. Financial issues follow employees to work, and employee financial wellness has a direct impact on engagement and productivity. 

Absenteeism and reduced productivity add up to $1,786 lost per employee per year.1  

What workers want: 3 drivers of financial well-being

The good news is that workers see the workplace as a potential source of help and feel better about their finances when they:

Work with a financial advisor

Have access to workplace financial wellness resources
Review and engage with their retirement plan regularly
There's an opportunity for employers to play an important role in financial preparedness, and Canadian workers want the support. 

Promoting financial knowledge, offering a comprehensive retirement plan, and connecting employees to trusted financial advice can help to reduce workplace stress, with a positive boost to engagement, productivity, and, ultimately, emotional and financial health.

Access to sound financial advice in the workplace is key to helping workers be less stressed and more productive. Financial advisors can work with employees to build and stick to a personalized, realistic financial plan that works for them and all their goals. 

What employers can do: 5 ways to help reduce financial stress

The opportunity for employers is to help your employees improve their financial wellness, as doing so can have a direct impact on employee engagement, loyalty, and productivity. 

Here are five ways you can help.

You can play an essential role in your staff's well-being. Consider offering and promoting financial education and wellness programs, mental health tools and programs, and retirement planning support. 

Consider connecting your employees with a financial advisor to provide personal financial advice; a financial advisor can help employees feel supported, informed, and confident about more than just retirement.

If you want to help your employees manage their debt and financial stress, you could offer a range of support, including online budgeting tools, tips, and webinars. 

Enable features such as contributions through payroll deductions in your group retirement and savings plans to make saving easier.

Offer personalized options that can support the diverse needs and challenges of your employees.

Key takeaways
Inflation and rising interest rates are making it harder for many workers to meet their current living expenses and save for long-term goals such as a comfortable retirement.   

Workers are looking to their employers, financial advisors, and retirement plan providers for support to help them navigate the economic climate and make informed decisions about their financial lives.

If you're an employer, you can use the findings from our survey to help your understanding of how financial stress may be affecting your employees. Take time to evaluate and enhance your employee engagement strategies—support can take many forms, from general education to access to professional advice and financial wellness programs. 

Offering employees access to financial wellness resources and financial advisors through workplace plans is a proven way to help employees focus on what they can control to progress on their goals. Not only do these offerings benefit employees, but they can also help engagement, talent acquisition, and retention.

1 This is a hypothetical illustration used for informational purposes only, based on data from Manulife's 2022 stress, finances, and well-being survey. This calculation is intended to provide general information about how much financial stress can cost a company every year. The above calculation is based on missing 5.6 hours/year and 28.8 hours/year of lost productivity due to symptoms of financial stress with an assumed salary of $51.92/hour. Individual circumstances may vary; the example may not be reflective of your situation.
All data is from the 2022 Manulife Retirement stress, finances, and well-being survey. This year's survey was conducted with 1,551 Canadians using Angus Reid's research panel. The survey was conducted in English and French from November 28, 2022, to December 8, 2022, with an average survey length of approximately 17 minutes per respondent. Survey respondents were age 18 and up, were employed, and contribute to an employer-sponsored retirement plan. The maximum margin of sampling error at the 95% confidence level is ± 2.3%. The 2022 stress, finances, and well-being survey was commissioned by Manulife and John Hancock Retirement and conducted by Edelman DXI. Manulife is not affiliated with Edelman DXI, and neither is responsible for the liabilities of the other. The commentary in this publication is for general information only and should not be considered legal, financial, or tax advice to any party. Individuals should seek the advice of professionals to ensure that any action taken with respect to this information is appropriate to their specific situation.