Market volatility toolkit
Helping your clients navigate volatility
Human beings may fall prey to emotions, intuitions and biases that can lead them to make less-than-optimal investment decisions and potentially compromise their ability to reach their goals.

We're here to help you understand the impact of human emotions in volatile markets so you can help insulate your clients — with access to information, resources and expertise along with actively managed solutions that aim to offer both downside protection and upside participation.
Market volatility affects us all
As the market moves up and down, investors' emotions follow suit. On the upside, optimism, excitement and jubilation. On the downside, anxiety, fear and regret. In these periods, your greatest challenge as an advisor is helping your clients overcome emotional impulses so they can make the rational decisions that will help them reach their goals.
Lessons from the past
It took the S&P 500 more than four years to recover the ground lost in the 2007 – 2009 bear market. When the next downturn comes, what will your clients do?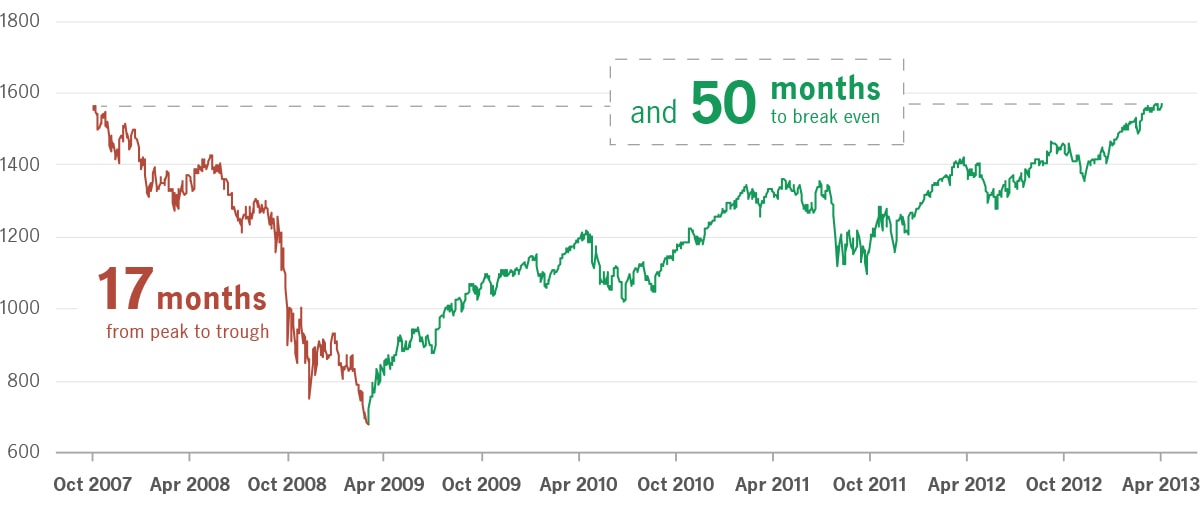 Bear Markets are declines of 20% or more from its peak and greater than 30 days.
Source: Bloomberg & Manulife Investments ($ CAD). Past performance is not a guarantee of future performance. The index is unmanaged and cannot be purchased directly by investors.
Understanding volatility
Insights to help you understand the current market conditions and build better portfolios.
Behavioural economics insights 
Unlock insight into the principles of behavioural economics to enhance your ability to understand and counteract the negative aspects of human emotions in financial decision-making, especially in volatile markets.
"Investors tend to make suboptimal decisions during periods of market panic."
David Lewis, President, BEworks Research Institute, explains what drives investor behaviour and why advice is the key to embedding your clients in your business.
Solutions for volatility
Help your clients withstand market ups and downs — with funds that offer exposure to the ups and protection from the downs.
Strategies to use with clients
Made specifically for investors to help them make the right decisions.
To learn more, contact your wholesaler.
© 2021 Manulife. All overviews and commentary are intended to be general in nature and for current interest. While helpful, these overviews are no substitute for professional tax, investment or legal advice. Clients should seek professional advice for their particular situation. Past performance does not guarantee future results. No investment strategy or risk management technique can guarantee returns or eliminate risk in any market environment.

Source for all information in this document unless otherwise stated is Morningstar Direct as of December 30, 2020.

© 2021 Morningstar Research Inc. All Rights Reserved. The information contained herein: (1) is proprietary to Morningstar and/or its content providers; (2) may not be copied or distributed; and (3) is not warranted to be accurate, complete or timely. Neither Morningstar nor its content providers are responsible for any damages or losses arising from any use of this information.

Commissions, trailing commissions, management fees and expenses all may be associated with mutual fund investments. Please read the fund facts as well as the prospectus of the mutual funds before investing. The indicated rates of return are the historical annual compounded total returns including changes in share/unit value and reinvestment of all dividends/distributions and do not take into account sales, redemption, distribution or optional charges or income taxes payable by any securityholder that would have reduced returns.  Mutual funds are not guaranteed, their values change frequently and past performance may not be repeated. The rate of return is used only to illustrate the effects of the compound growth rate and is not intended to reflect future values of the investment fund or returns on investment in the investment fund. The indices cited are widely accepted benchmarks for investment performance within their relevant regions, sectors or asset classes, and represent non-managed investment portfolios. Although these indices are similar to the fund's objectives, there may be material differences including permitted holdings or investment strategies, which may impact returns. Please refer to the Fund Facts of the fund for more information.

Manulife Funds and Manulife Corporate Classes are managed by Manulife Investment Management Limited (formerly named Manulife Asset Management Limited). Manulife Investment Management is a trade name of Manulife Investment Management Limited.

Manulife, Manulife Investment Management, the Stylized M Design, and Manulife Investment Management & Stylized M Design are trademarks of The Manufacturers Life Insurance Company and are used by it, and by its affiliates under license.