Help wanted: mental health and financial wellness at work
The past few years have been challenging for many: a global pandemic, market volatility, and record inflation. People have had to make tough decisions about their spending and long-term goals—and their financial and mental health have suffered. As an employer, you have an opportunity to play an essential role in your staff's well-being.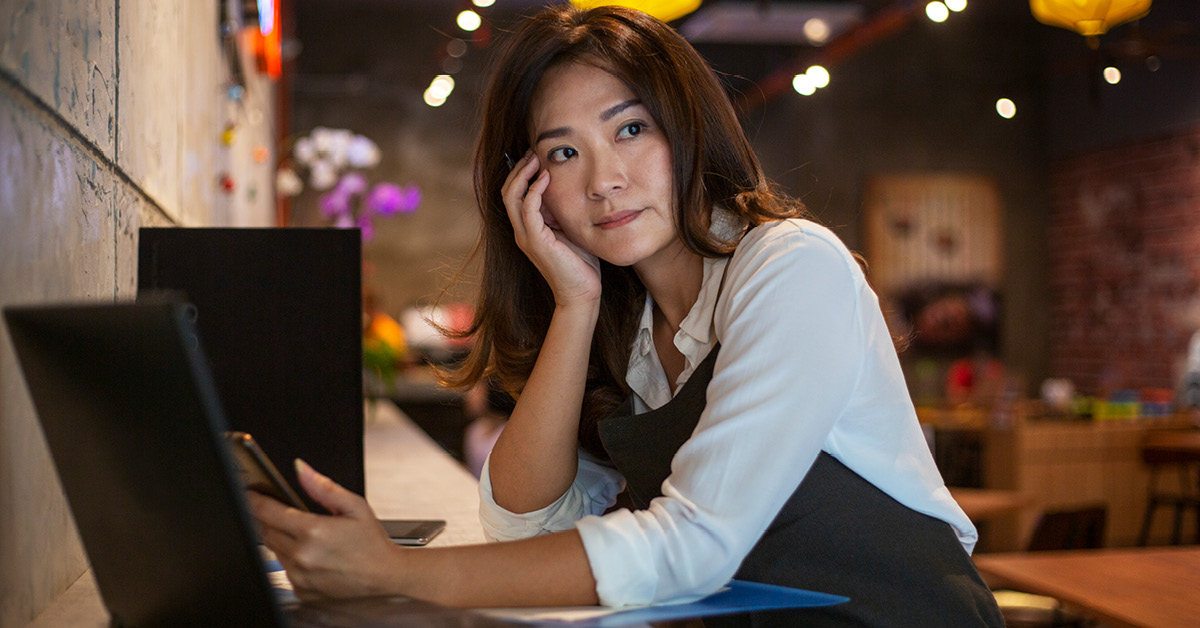 The economy's effect on mental health 

We all have days when we may feel sad, anxious, or tired for different reasons. Manulife's stress, finances, and well-being survey found that current economic conditions are leading to mental health challenges for many Canadian workers:

Nearly 9 in 10 Canadian workers report feeling stressed at least some of the time over the past year, with half saying they're stressed often or all the time

Half experience loneliness and depression 

Only half feel they have good mental health, and 4 in 5 say the economy plays a role

7 in 10 say the economy is affecting not just their financial well-being but their mental health too

Mental health in the workplace

An employee's mental health and financial stress can interfere with work:

7 in 10 say mental health has interfered with their ability to work in the past year

2 in 3 reported feeling burned out at least sometimes

1 in 10 have missed work due to financial stress in the past 6 months 

Employees are worrying about personal finances at work, taking away from their productivity, which may affect an employer's bottom line. Of those who worry, over half feel they'd be more productive if they didn't worry.  

Canadians spend on average 2.4 hours on their personal finances at work each month. Those who are stressed, in a poor or fair financial situation, and those whose debt is a major problem spend more time on personal finances at work. 

Who's most at risk?

Certain populations are disproportionately affected by economic stress and uncertainty: Women, those with fewer assets, younger generations (under 55), and visible minorities struggle more with finances and mental health. 

Financial stress is leading to more missed days, with greater absences among those whose household income is less than $50,000 and those whose debt is a major problem. 

Women, younger generations, and visible minorities are more likely to say mental health has interfered with their ability to work. 

Mental health is a growing concern for the younger generation of workers. Manulife data shows a 27% increase in the number of workers aged 18 to 34 submitting claims for mental health treatment in the past year.1 And Manulife saw a 22% increase in the number of workers of that same age group going on long-term disability for mental illness since 2019.1 

Helping deliver the support workers want

As an employer, it may be in your best interest to help your employees stay healthy, both physically and mentally. That could be one of the main reasons why you offer a group benefits plan and a group retirement program in the first place.

The results of our stress, finances, and well-being survey show Canadian workers would welcome mental health support from their employers: Three in 10 Canadian workers are interested in getting access to tools and programs to help manage their mental health through their employer.

The median amount of coverage offered by Canadian employers for mental health services is $750, an amount that would likely only cover between 3 and 5 sessions of therapy. In many cases, that might not be enough, as most people need between 8 and 20 session per year to get adequate treatment and support for a diagnosis of depression and/or anxiety. Consider working with your group benefits provider to evaluate the current level of mental health coverage offered by your group benefits program. 

Offering mental health support can help companies save financially, too. At any given time, in every organization, people are dealing with a range of issues. Mental illness in the workplace can lead to direct and indirect costs to employers, namely healthcare costs, absenteeism, and productivity. Mental health accounted for over 30% of Manulife's group disability claims in 2021.1  Supportive mental health programs and policies can contribute to better employee morale and engagement. Organizations that protect the mental health of their employees can reduce costs arising from absenteeism, disability, lost productivity, and employee turnover.

Financial preparedness and mental health

Employers can also play an essential role in their staff's wellbeing by offering financial wellness programs, including financial advice and retirement planning support. Not only do these programs benefit employees, but they can also positively help with talent acquisition and retention. 

In fact, data from Manulife's 2022 Wellness Report (TWR) shows that financial well-being was an important factor for the top three participating organizations. Based on TWR data from 2022, the top three organizations had a higher percentage of workers who said that they had better access to financial information, had financial well-being courses or programs, and had access to a financial planner.2  

Our stress, finances, and well-being survey found that 2 in 3 Canadian workers don't have a formal, comprehensive retirement plan and more than half don't have a financial advisor. Having these in place is connected to better mental health and stronger financial situations. 

Source: Manulife stress, finances, and well-being survey, 2022.
There's a close relationship between taking action toward better financial well-being and mental health. When financial stress causes mental health challenges, you can help support your employees' wellness help improve employee productivity and engagement by investing in financial wellness programs, financial advice, and comprehensive retirement plans for your employees.
Next steps  

The economy is causing financial stress among employees, which can negatively affect mental health and job performance. Consider the effect financial stress has on your employees' mental health and, ultimately, on your organization.

Mental and financial health are interlinked: Helping employees experience improvement in the one also benefits the other. Mental and financial health both have a significant effect on productivity, engagement, and absenteeism. 

You can use the insight from our stress, finances, and well-being survey to help provide the support your employees need and want. Employers have great options on the menu of solutions that can help their employees bring their best to work each day and help employers stay competitive and successful as a business. 

If you have concerns or questions about the financial wellness and mental health programming for your organization, talk to your group plan representatives.

1 Manulife Group Benefits aggregate claims data, 2022. 2 The wellness report is a comprehensive workplace wellness assessment tool that collects information from employees from a 30-minute online survey. It measures their physical, psychological, and financial wellness, as well as their engagement and productivity. It also assesses workplace culture and wellness initiatives. Any company that has a group benefits or group retirement product with Manulife can sign up for the wellness report.
Unless otherwise noted, all data is from the 2022 Manulife retirement stress, finances, and well-being survey. This year's survey was conducted with 1,551 Canadians using Angus Reid's research panel. The survey was conducted in English and French from November 28, 2022, to December 8, 2022, with an average survey length of approximately 17 minutes per respondent. Survey respondents were age 18 and up, employed, and contribute to an employer-sponsored retirement plan. The maximum margin of sampling error at the 95% confidence level is ± 2.3%. The 2022 stress, finances, and well-being survey was commissioned by Manulife and John Hancock Retirement and conducted by Edelman DXI. Manulife is not affiliated with Edelman DXI, and neither is responsible for the liabilities of the other. The commentary in this publication is for general information only and should not be considered legal, financial, or tax advice to any party. Individuals should seek the advice of professionals to ensure that any action taken with respect to this information is appropriate to their specific situation.

Manulife collaborated with Phase 5 and RAND Corporation to conduct The Wellness Report surveys and reporting. In 2022, 47 Manulife group sponsors participated in The Wellness Report, and 4,921 employees responded to the online surveys. The Wellness Report surveys were conducted in February, May, and October of 2022.