Episode 87: Under the microscope: looking closely at a potential recession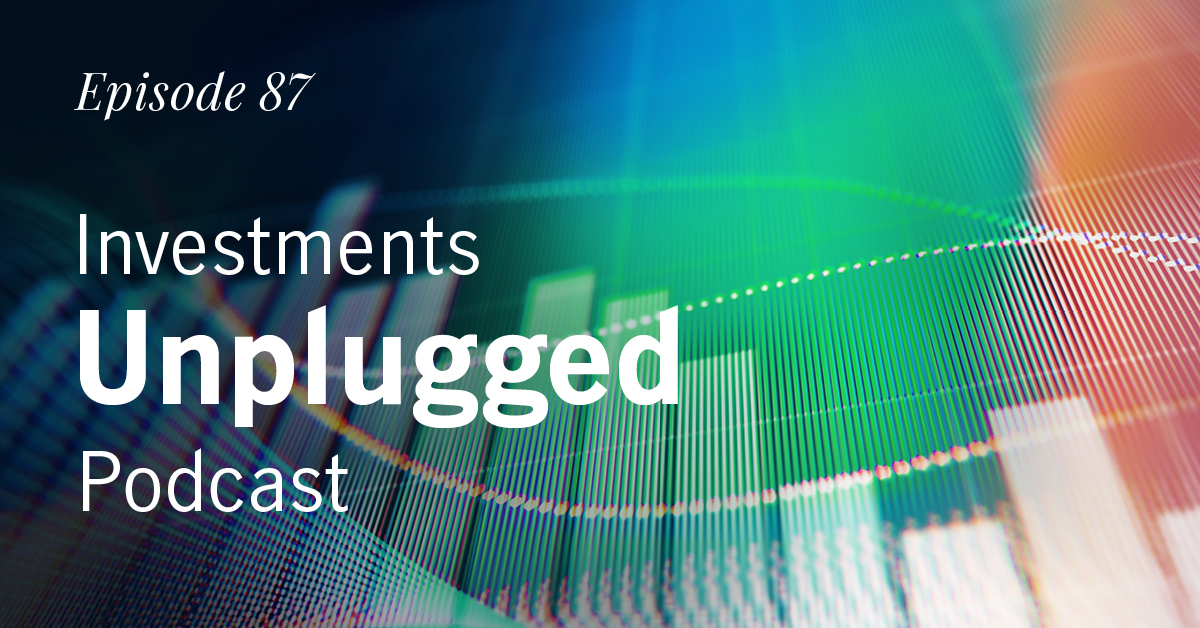 ---
Recession—it's a word that continues to dominate the minds of investors and economic scientists alike. We hear about it so often, it sometimes seems like our expectations and concerns magnify. Yet, there could be important information that some people don't see. Let's focus the lens a little and scrutinize some of the financial details.
What's a soft or hard landing, and can we expect one or the other?
Why has a potential recession been delayed?
Does the economic data tell us whether a recession is inevitable?
How will the anticipation of a potential recession continue to affect the markets?
Zoom in for a better view.
The opinions expressed are those of Manulife Investment Management as of the date of this publication, and are subject to change based on market and other conditions. The information and/or analysis contained in this material have been compiled or arrived at from sources believed to be reliable but Manulife Investment Management does not make any representation as to their accuracy, correctness, usefulness or completeness and does not accept liability for any loss arising from the use hereof or the information and/or analysis contained herein. Manulife Investment Management disclaims any responsibility to update such information. Neither Manulife Investment Management or its affiliates, nor any of their directors, officers or employees shall assume any liability or responsibility for any direct or indirect loss or damage or any other consequence of any person acting or not acting in reliance on the information contained herein.

All overviews and commentary are intended to be general in nature and for current interest. While helpful, these overviews are no substitute for professional tax, investment or legal advice. Clients should seek professional advice for their particular situation. Neither Manulife, Manulife Investment Management Limited, Manulife Investment Management, nor any of their affiliates or representatives is providing tax, investment or legal advice. Past performance does not guarantee future results. This material was prepared solely for informational purposes, does not constitute an offer or an invitation by or on behalf of Manulife Investment Management to any person to buy or sell any security and is no indication of trading intent in any fund or account managed by Manulife Investment Management. No investment strategy or risk management technique can guarantee returns or eliminate risk in any market environment. Unless otherwise specified, all data is sourced from Manulife Investment Management.

Manulife, Manulife Investment Management, the Stylized M Design, and Manulife Investment Management & Stylized M Design are trademarks of The Manufacturers Life Insurance Company and are used by it, and by its affiliates under license.

2952649
Macan Nia:

Commentary is for general information purposes only. Clients should seek professional advice for their particular situation.

Macan Nia:

I don't even know why we look at these predictors in anything like this, we just track when I go on vacation and that's when the selloff happens. But anyways.

Kevin Headland:

I'm looking forward to being very busy next week, shall I say.

Macan Nia:

And I'm not going to care.

Kevin Headland:

When we talk or think about the general health of the economy, we're often referring to the relative health of the consumer. That's because consumption accounts were roughly 2/3 of economic growth. As consumer goes so does the economy. If you want to know why the economy in both Canada and the US has done generally better than expected look no further than the rather surprising resiliency of the consumer. Despite elevated and stickier inflation impacting almost all goods and services and higher interest rates eating away at disposal income, the consumer continues to spend. During COVID and the early parts of the reopening, we spent on goods and has now transitioned to spending on services such as restaurants and travel. But how long can this continue?

On this episode of Investments Unplugged, we examine the consumer's health and whether they can continue to support the economy at the same levels they have so far. And what will be the impact on our bond investing? Is it time to move from phase one to phase two for bonds? Listen on, this is Investments Unplugged. Welcome back to Investments Unplugged. As always, I'm your co-host Kevin Headland, Co-Chief Investment Strategist at Manulife Investment Management. And with me again is my colleague and dare I say friend, Macan Nia, also Co-Chief Investment Strategist at Manulife. Welcome back, Macan.

Macan Nia:

Thanks, Kev, and don't dare call me your friend. But anyways, let's get going.

Kevin Headland:

I try. We always have to have a friend at work, right?

Macan Nia:

Apparently.

Kevin Headland:

Today as I mentioned earlier in the opening, we're going to talk about the consumer and this recession that perhaps is delayed. It's still our base case, we're going to have a recession. And that word recession is such a hot topic as a lot of analysts out there and even the Federal Reserve has talked about perhaps no recession. But I think the key-

Macan Nia:

Kev, can I stop you there? Before we even go forward let's talk about ... Because I think there's a lot of confusion around these definitions that we as ... We have created. So this soft landing, hard landing, no landing, I think those words have changed and it's created some confusion. You walk us through what is a soft landing, what is a hard landing, what is a no landing. I know it sounds crazy, but over the past couple of weeks we have realized, in our discussions with advisors across the country, that there seems to be a little bit of confusion.

Kevin Headland:

No, that's a great point Macan. That's exactly it. Or I've heard perhaps that a soft landing means a soft recession and a hard landing is a deep recession. The context I like to put it in is, think about inflation as that proverbial plane that's landing, and the Federal Reserve Bank are trying to land inflation to that 2% target level. So a soft landing is landing that plane, getting inflation down to 2% without any recession. So that's a no recession. Soft landing no recession, hard landing recession. There's no definition for a really hard landing or a smooth hard landing shall we say but we believe it's going to be a more smooth, hard landing and no soft recession, a shallow recession.

The no landing narrative is a term that came up ...Never really heard it before except this time. Is this idea that inflation remains elevated and the Federal Reserve does end up cutting rates, perhaps continuous to raise rates, right? So this no landing is that inflation just remains elevated and continues this way. And I think, of course, that is a very low probability event and we're probably going to get either hard landing or soft landing and inflation eventually gets back down to that 2% target.

Macan Nia:

Okay, perfect. In the last podcast, we talked about our investment views for the rest of the year. Let's talk in terms of why it's been delayed, right? Maybe quickly go through our view in terms of a recession as of the end of September.

Kevin Headland:

And again, back to the recession being a hot topic and the word. And I think it's a matter of really where the balance of risk lie. Have we avoided this economic slowdown? And I think that's key right now is I think we are still in this economic slowdown camp and we shouldn't be celebrating avoiding recession altogether. One of the reasons it's been so good so far and perhaps changing perception for many out there is this resilience. A lot of the data coming out is better than expected, right? Consumer sentiment better than expected, economic surprise better than expected.

Macan Nia:

You've seen retail sales better than expected. Retail sales above consensus over the last, I think, five to six months in the US. Because I think we're feeling our own personal situations and those around us at the margin. I think it's all relative to, right, what it was a couple of years ago. But anyways, it doesn't matter. We get to question well, why has it been delayed? The simple answer is us. And what I mean by us, it's consumers. And when you look at developed markets where almost 2/3 to 3/4 depending on the country, economic output is driven by the consumer, the consumer has been very resilient. And that's been a surprise I think year-to-date in 2023.

Kevin Headland:

Well, there's reasons for the resilience, right? We got to remember, the excess stimulus put in by both the US and Canadian governments during COVID, and the savings levels they were elevated because we couldn't spend money or we spent less money, shall we say, during COVID. We couldn't travel, couldn't go to restaurants. We still spent on goods. But we still have this pent-up demand on services. There's roughly $2.1 trillion of excess savings at the peak in the US, 2.1 trillion. Yet, many expect, the Federal Reserve among them, that those excess savings will completely be used up by the end of September. There's no more excess savings. What next, right? One of the things I saw joking but it's not really a joke. But think about it as rates are higher, we're paying more for our variable rate mortgages in Canada specifically. We all know somebody who is complaining about paying more for their mortgages, right? I'm paying excess $100. Macan, I think I've heard you complain about it too as you're [inaudible 00:06:37].

Macan Nia:

We've all heard someone. I've been complaining about it ad nauseam.

Kevin Headland:

And here's the story that I say and I'm like, "Yet" ... "We carry on a conversation and we'll say, "Oh, are you going to the restaurant on Friday?" "Oh, yeah, no problem, I'm still going, I'm still spending," right? You're complaining about this yet you're going on vacation next week, right? There's still willingness to spend, right? However, how long can the average Canadian consumer and US consumer continue to spend the same level? And that's really where the crux of our slowdown in the economy comes from is, can the consumer continue to maintain the same pace of support for the economy? And we look at debt levels now, we're at all-time record levels and credit card debt both in the US and Canada. Savings rates near all-time lows. How much more juice is left for those consumers?

Macan Nia:

And you touched on savings rates. In the US, and the same dynamic holds here in Canada, is on average savings rates ... This is multi-decade too. The average saving rates is roughly seven. And just to give you an idea when you talked about excess savings ... So excess savings is savings over the long-term average. It spiked during COVID from, let's say, roughly 7.5 To 25%. Why? Because, as you mentioned, we had subsidy, subsidy, subsidy, or government support, and also we were trapped in our homes. We could use Amazon but we couldn't spend it as much as we used to so we got close to 25% savings rates.

And over the past couple years with higher cost of living, higher interest rates, that's dwindled in the states from 25% all the way down to four. And you alluded to that it's at near lows, multi-decade lows. The savings that we've been using as a buffer is not there moving forward. And you talk about credit card debt. Both here and in the US at multi-decade ... Multi-year, multi-decade, the case in the US high. We don't have savings, we don't have plastics, what else is left to keep the momentum going?

Kevin Headland:

We're not bearish in terms of oh, the consumer can't handle the current debt levels, it's can they continue to spend? We actually have started to see some delinquency rates increase on credit card debt as well. In the US, for example, we're up around 2.75% of delinquency rates. Still long-term lows, this is nothing, but it's the trend, right, it's starting to pick up. It's not as good as it once was and, therefore, can it continue? When we look at consumers we're looking at gas prices increasing, right? Think about the oil price increases now. The average gasoline price in the US is 3.90 a gallon. Increased 6% year over year. We're feeling it in Canada too. The price at the pumps are not going down they're only going up. And that's also going to erode our potential consumption available for other goods and services.

Macan Nia:

What is it? End of September we have back to school. So for those that have kids one of the traditions is you got to buy your kids clothes, schools ... Or schools. Clothes, stationaries, whatever.

Kevin Headland:

School supplies.

Macan Nia:

School supplies.

Kevin Headland:

How many pens do kids need?

Macan Nia:

Pardon?

Kevin Headland:

How many pends do kids need? Every year new markers.

Macan Nia:

Well, they probably lose them by the end of October that's why. But anyways. So they did a survey of parents, so the Retail Council of Canada, and they found that basically 75% of parents were going to spend more than 50 bucks this year. That's down close to 80% from last year. What I found interesting about the data is, they're planning to spend the most money on clothes, books, stationaries, but the top spend was stationary. If I have less money to spend I'm going to start spending on the most important which is the stationaries and then it's everything else. You see that Canadians are actively making change ... Or actively making decisions on what they're spending money on. And this same dynamic was in the states too. Deloitte did a survey of parents and they saw that actually, it was a decline of almost 10 to 15% from last year. You are seeing initial cracks.

Again that savings rate you don't have. Or not savings. You don't have that savings, you don't have that plastic. And now you may be a little bit concerned or weary of maybe your job prospects because it's still very early but you are starting to see cracks at the margin. I know here we were seeing people getting maybe not cuts but ... Outside of unions I guess. Wages aren't going up anymore, you're just happy if you keep your job. So all of these I think increase the odds that you are going to see an increased risk of a recession. Again, like you mentioned, shallow but a recession.

Kevin Headland:

You mentioned a really good point there is this choice, right? When you have a limited amount of money or you realize that you can't increase your debt level as much or your credit card is maxed, you have to make that choice of what do I need? And it becomes more not about discretionary spending but actually staples, right? And I think that's key. Perhaps that demand for services is waning. People have traveled and perhaps going to restaurants. Again, it's all about, can we continue this pace. The thing that we look at the most, almost at every data point we look at, is really about where the balance of risk lie. Are things improving? Do we have upside risk or downside risk? And when we look at the economy right now with our leading indicators and coincident indicators flashing red and yellow, it's hard to see, just based on the data, that we can be optimistic here and say that things are getting better.

Now, again, that doesn't mean that we're in for a bear market or material downside risk to equities. We expect probably some choppiness amongst uncertainty, right? That's our first theme, right? Expect some downside risk or choppiness to equities amidst volatility. But I think really what this leads us to is our second theme, right? Buying bonds is one thing, buying the right bonds another/ and this is one that's been very difficult so far this year. It's a matter of bond yields have been going up, that means prices are going down. We did not expect the bond market to react the way it has so far with tenure treasuries surpassing last October's highs, that was a surprise to us. We thought they'd be much lower given the weaker economic data. But inflation has been resiliently higher. The central banks have raised rates much higher so far this year than we expected. Call it a beginning of this year or even late last year.

Macan Nia:

And the economic data, Kev, we saw yields increase throughout the summer on the prospects of that we're not going to get a recession, right? And you saw the S&P, I think, it was up 9% in June and July based on that. Me and you had time in August that we sat back and we said, "The economic reality, there's a disconnect with what the market is feeling and what we're seeing in terms of the data." But I think that's a great point.

So transitioning into a question we get is, have yields basically peaked? So we went back and we said, "Okay, let's look back at the previous six US rate tightening cycles since the 80s and try to see if there's any information that we can maybe glean from it." What I found interesting is four of the six years, the 10-year peaks roughly three months before the last fed hike. So let me rephrase that. Four of the six tightening cycles, the 10-year peaks three months prior to the last fed hike. One time it basically happened at the same time. And then the other one, it happened one month after.

So when I take a step back it's hard to get because you're data mining. Potentially data mining. But I think it's safe to assume that the 10-year typically peaks a few months around the last fed hike. If this is our view for the US economy moving forward on weakening on the back of a consumer that's tapped out, the fed is probably much more likely or closer to the pause over the next couple of months, to be safe. And based on history, the 10-year yes, it can go up, sure, from these levels, but it's more likely peaking at these levels over the next couple of months.

Kevin Headland:

I think it's a really good point. We're getting near the peak we'd expect, and, of course, a surprise higher. We're recording on September 25th at 10:30 in the morning and the 10-year treasury is already up almost 10 basis points and 2% today. It's continued to rally. However, how much more upside does it have to go? Or one of the biggest questions we've been receiving this year is this notion of should I be short or long duration? When you look at the volatility of the tenure so far this year, that has not been a binary answer. It's not about shorter long duration but be more tactical in your duration management. And I think that's been key so far is, almost on a sometimes daily basis, depending on the data that's coming out, depending on the movements, you want to be very tactical in how you're positioned, especially on the US treasury curve.

Macan Nia:

That's an excellent point, Kev. When we did this study a couple things stood out to me. One was, there's times where yes, the 10-year peaks typically before the fed pauses, but there's instances where you do have spikes in the US treasury due to shocks. A good example is 1987. Yield spiked quickly, obviously, around Black Monday. They were in that path downwards but they did a couple of weeks where they spiked up. We saw it again where yields the trend. If you look at a long-term trend, for those people who are looking at technical, is the path was downwards, but yields spiked initially quickly during March 2008 when basic ... The collapse of Bear Stearns.

Yes, we think yields are going to be trending lower, but it also speaks to the importance of duration management in bonds. Because you may be vulnerable to maybe shocks ... And look about what happened with SVB. You don't have to look too far for a recent example. SVB happened a couple months ago, well, even more now, earlier in the year, you saw a shock in spike. Although our view is we think yields fall, you don't necessarily need to be adding to duration aggressively. Like we've mentioned before, you're getting paid 5.5 In high-quality investment grade US or Canadian credit to just click the coupon and wait.

Kevin Headland:

Macan, I'm surprised you don't remember when SVB collapsed because I think that was the last time you were on vacation if I remember correctly. We know whenever you on vacation I get busier because the markets are very volatile.

Macan Nia:

What is this September 25th? I'm leaving this Thursday. Interesting enough I think it's actually the day where the US government ... There's another round, surprise surprise, of a US government shutdown. It's like now we get two a year instead of one. Actually, I think it happens the same day I leave for my trip. I don't really even know why we look at these predictors in anything like this, we just track when I go on vacation and that's when the selloff happens. But anyways.

Kevin Headland:

I'm looking forward to being very busy next week, shall I say.

Macan Nia:

And I'm not going to care.

Kevin Headland:

Why does duration really matter? This is key. When we looked at things this time last year we thought, or we envisioned the bond opportunity unfolding in three phases, right? The first phase clip the coupon, where we've been all this year, as you mentioned. Very attractive interest rates on credit. Not only that, but also material capital gain potential on credit as well. Right now the US invest grade credit average price for the index is sub $90. The majority of them mature at par of $100 so that's a great capital gain. So not only yield or coupon but also capital gain potential there. And the second phase was this embrace duration, right, take on more duration. The reason is that is because of sensitivity to bond yield movements. And as yields fall which they tend to do in economic weakness ... On average the tenure year treasury has fallen by 1/3 during recessionary periods. So the 10-year falls even by 100 base points or 1% from these levels, from 4.5 to 3.5. 3.5 is still fairly elevated based on history.

Macan Nia:

That's where we were last spring. Or last spring this spring, right? Four or five months ago we were at that.

Kevin Headland:

100 basis point fall given ... A quick, simple bond math with a, call it, seven-year duration on average, you got a 100 base point move. That's a 7% price movement. Basic math, not including convexity, and all this other fun bond stuff we won't get into now, on top of your coupon as well. This is attractive opportunity for investments. Or for fixed income, and it's starting to move into the second phase. We might not be just there yet, but I think tactically dipping your toe into some duration opportunities now makes a lot of sense at these levels.

Macan Nia:

We're talking about soft landing, hard landing, no landing. At levels we're at today with yields you don't necessarily need a recession to benefit from the price appreciation of bonds. If you get an economic slowdown, so not even a recession. One can make the case how yields could fall that 1%, right? We're just going back to levels that we were earlier in the year when core CPI was higher than it is today. The thing I like about bonds today is you don't even need a recession you just need a slowdown. Now, where we may be wrong, where our thesis falls apart is A, you don't get an economic slowdown and just yields keep rising. And if yields keep rising, given the lack of buffer from consumers, given debt levels, it just increases the odds of actually a severe recession.

Kevin Headland:

We talk about the equity market as being priced for perfection, and anything go wrong could upset them. The bond market same thing. Their price for this notion that the Federal Reserve will remain on the sidelines for longer. The dot plots that came out from the recent fed announcement this week was that they're going to be higher for longer. What if the economic data surprises to the downside, right? The expectation that everything's going to be great. What if it surprises the downside? What if there's a little bit more uncertainty there? You said the exogenous shocks. What if there's something that comes out? What if the Federal Reserve, early next year, starts talking about perhaps they need to cut rates?

One of our colleagues, Alex Persino said, "When the Federal Reserve starts cutting rates no one will question why they're cutting rates." It's likely not a slow cut to normalize, it's likely because economic data is much weaker than expected and they're going to have to cut rates to protect against a much stronger recession. When we think about where the balance of risk lie, any perhaps cracks or surprise downside could cause that tenure to fall fairly quickly I would say. The bond market moves I almost ... Faster than the equity market, right? We saw it earlier this year. 10-year spikes and you miss it, right? You've got to be prepared for those quick moves. And that's why active bond managers looking at these minutiae of the data and the bond markets can act a lot faster perhaps than a lot of investors.

Macan Nia:

When we look back at all of this, I think what we're seeing is ... As we go into October is there's a disconnect between sentiment surrounding a recession and what we're seeing in terms of the data. There's positive data sets for sure. But overwhelmingly if there's 10 indicators, seven to eight of them are pointing to economic weakness and two are strong. Taking it from a holistic approach, we just think that this recession has been delayed, it has delayed the bond thesis. And when I say delayed the bond thesis, one part of the bond thesis return, right? The coupon we're clipping, right, we're still getting that income but it's delayed the price appreciation of the bonds, the second part, the juice. We don't think that's gone away it's just been delayed because we've been resilient. The consumer's been resilient, we had a good savings rate, we had low debt levels in terms of plastic. Well, that's changed. So where do the balance of risks lie over the next three months from an economic perspective? Is we think they remain to the downside but the upside is in bonds.

Kevin Headland:

And that's key right there is it's been delayed it hasn't gone away. One of the best parts of bonds is it's mathematical, right? You know with high confidence that high-quality bonds will eventually mature at the maturity date at their $100 par value. And they're worth $9 today, they will be eventually $100, right? It's patience for bond investors, especially on the income side as you said. That income doesn't come on a daily basis. If you're constantly looking at your returns on a daily basis you're not seeing that, you have to look at it for the full year and you'll get that 4.5, 5.5% coupon over that full year when we look back. So patience is important. We can't look at a day-to-day it's not like equity market returns. And I think the key is the bond opportunity is still there, it's been delayed. And active management starting to embrace duration is key, especially if you agree with our thesis that we're going to get economic slowdown and the tenure is near peaking, a result of central bank's nearing peak rates. Macan, perhaps we'll leave it there unless you have a final comment.

Macan Nia:

No, I thought you did a good way of really wrapping it up. When we hear questions on the road it seems to revolve around Canadian housing which is just a function of debt levels, and the strength of the economy, and all that. No, I think that's a good place to pause.

Kevin Headland:

On the Canadian housing quickly just saying ... That's another issue, right? As you're paying more for interest rates the available money to spend on elsewhere because you're paying higher for your rent or other housing costs is going to hurt more the consumer. We're not seeing a housing correction, but the availability for disposal income has weakened as a result of higher costs. A lot of thesis, a lot of data points point towards why we're moving this direction. And the only time will tell whether it plays out properly.

Macan Nia:

I'm going to give ourselves a shameless plug. If you are on LinkedIn or you want to be more consistently connected with the thought leadership that the two of us put out, we have found that LinkedIn is the way to get our views across. The days of writing 1,000-word papers are over. We all have the attention span of a goldfish, so if it's not less than 300 words we're not reading it. LinkedIn, we have found is a very powerful way to get our message across. If you are on LinkedIn and we are not connected, either Kevin or I ... Reach out to us, we'd be more than happy ... Actually, would love to be a part of your network to get our thoughts across.

Kevin Headland:

That's great. The point, Macan, a shameless plug. One more shameless plug for this podcast. If you enjoy this podcast please rate us. If you don't enjoy this podcast please don't rate us. I'm joking, of course. We always want high ratings on our podcast. And really comments and ratings just help bring this podcast to light for like-minded investors. And if you do enjoy it please share it with others, right? Let people know you have this podcast out there that you really like. We're always looking for new subscribers, new listeners so by all means please share it and like it. Thank you so much for listening. Once again this is Kevin ... Oh, you want to say something, Macan?

Macan Nia:

I was just going to thank them.

Kevin Headland:

Okay. All right. Once again, it's Kevin Headland and-

Macan Nia:

Macan Nia. Thanks for listening.

Kevin Headland:

This has been Investments Unplugged, take Care. Copyright Manulife Commentary is for general information purposes only and shouldn't be relied on for specific financial, legal, or other advice, and does not constitute an offer or an invitation to buy or on behalf of Manulife Investment Management to any person to buy or sell any security. Opinions expressed are those of Manulife and or the sub-advisor of Manulife Investment Management and are subject to change based on market and other conditions. Manulife isn't responsible for any losses arising from any use of this information. Manulife funds are managed by Manulife Investment Management Limited, formerly named Manulife Asset Management Limited. Manulife Investment Management is a trade name of Manulife Investment Management Limited. Commissions, trailing commissions, management fees, and expenses all may be associated with mutual fund investments. Please read the fun facts and perspectives before investing. Mutual funds are not guaranteed. Their values change frequently and past performance may not be repeated. This information does not replace or supersede KYC, Know Your Client, suitability, needs analysis, or any other regulatory requirements.