It's time to spring-clean your finances
Ah, spring. You may be thinking about doing a little spring-cleaning to tackle tasks that have gone undone in the hustle and bustle of life. But sometimes the most important things get the least attention. Like your money. Now is the perfect time to make sure you're on the right track towards your goals. Here are a few ideas to help you spring into action.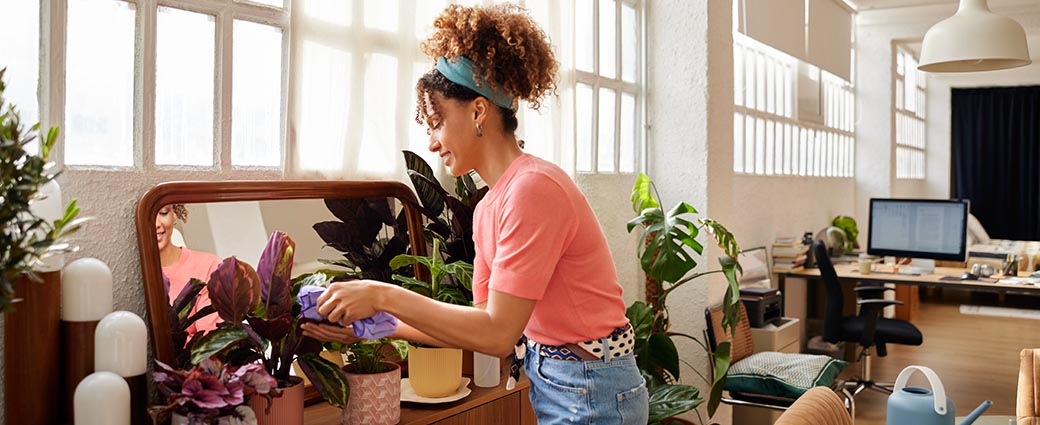 Check in on your money
Go over your savings goals—It's a good idea to periodically take a look at your long- or short-term savings goals and make sure you're on track. You can tweak your strategy if you need an adjustment.

Review your beneficiaries—A lot can change from year to year. Spring is a great time to review and update your beneficiaries, especially if you've had any life changes.

Go paperless—Still receiving bills, receipts, and other important documents in the mail? Now's the time to go digital. You can easily keep track of all your retirement savings statements and documents online, in one secure place. 

Make life easier with automation

Many of us already enjoy the ease and convenience of paying our bills online. Automating your retirement savings can be just as easy! By setting up automatic contributions with payroll deductions, if your plan allows, you remove any chance of forgetting to contribute to your plan. This can help you stay on track and reach your savings goals. 
Clean up and consolidate your accounts 

If you feel like your finances are a bit messy to manage, you may want to do a cleanup. Consolidating your finances could help you manage your money more efficiently and may also allow your savings to grow a little quicker.

Pay fewer fees—Most investments will come with an associated investment management fee. The more places you keep your money, the more fees you may potentially pay. Consolidating your finances in one place may reduce the fees you pay and help grow your savings more quickly. 
Keep track of your money—Keeping your money in one place could help make it simpler to keep track of and make adding to it easier. 
All your information on one app—By consolidating your finances, you could view all your accounts and financial documents easily from one provider app.
One-stop-shop for advice—Talking to a financial advisor is a great idea. Having one who knows your financial history and is familiar with your goals means you'll be able to get personalized advice.
Get some help with your spring-cleaning 
Tidying up your finances is easier with a bit of help. A financial advisor can help you start your financial spring-cleaning and work towards your long- or short-term savings goals. 
Financial planning—Whether it's an annual budget or saving for something specific, your advisor can help you set a plan in place that's designed to work with your lifestyle.
Investing advice—Making sense of the market can be daunting. Your financial advisor can help you explore investment options that work within your risk tolerance and make sense for your savings goals.
Retirement planning—Saving for retirement could be easier with expert advice. Talk to your advisor this spring and find out how tidying up your finances could help you along the way to retirement.
Are you ready for a financial tidy-up?
By taking some time to go over your finances and make adjustments if necessary, you could give yourself a savings advantage that will help make reaching your savings goals easier. Use this financial spring-cleaning checklist to help you get started: 
Check in on your money. Consider trimming any unnecessary subscriptions or fees you may be paying. 
Determine if your group retirement savings plan allows for contributions to be made from your bank account automatically. 
If managing your money is getting a bit messy, you could consider consolidating your accounts to help make it easier for you to stay on top of, and you may pay fewer fees. 
Don't hesitate to reach out for advice—a financial advisor can help you take full advantage of a financial spring-cleaning this year.
If you have a Manulife group plan, you may have access to PlanRight® advisors at no additional cost to you. Check with your employer or plan sponsor to see if this benefit is part of your group savings plan. A PlanRight advisor can help you plan and prepare for your financial goals at each stage of your life.

The commentary in this publication is for general information only and should not be considered legal, financial, or tax advice to any party. Individuals should seek the advice of professionals to ensure that any action taken with respect to this information is appropriate to their specific situation.